You're in one of the greatest cities in the world, why are you working at a Starbucks?  There are so many cool coffee shops around New York City that are perfect for the working type.  Get out and about and travel to some coffee shops in areas you've never been to; it's a great way to get work down as well as experience somewhere new.  If you don't know where to start looking for your next work space, I've provided a list of 5 great coffee shops that you should experience:
Gotan
Gotan is in a great part of Tribeca at 130 Franklin Street. The shop is huge with plenty of tables for everyone.  The food is very hipster, an all organic kinda deal, so if you're not into that pack a sandwich or protein bar for a snack.  The coffee however is amazing, and the wifi is free.  This is such a popular shop, that during lunch the place gets crazy, so I would get there before noon if I were you!
Spreadhouse Coffee
Spreadhouse Coffee is extremely cute. They've got cushioned chairs along one wall up on a platform; don't worry if those are all taken because they've also got some cushions you can hang out on too.  If you're feeling more of a table vibe, don't worry they have plenty of those too; pick from a bar, to a long picnic style table, to a table for two.  There are so many options you could switch periodically throughout the day.  They've got plugs everywhere and complimentary wifi for an hour if you purchase something to eat or drink.  You can hunker down here and get some great coffee at 116 Suffolk Street.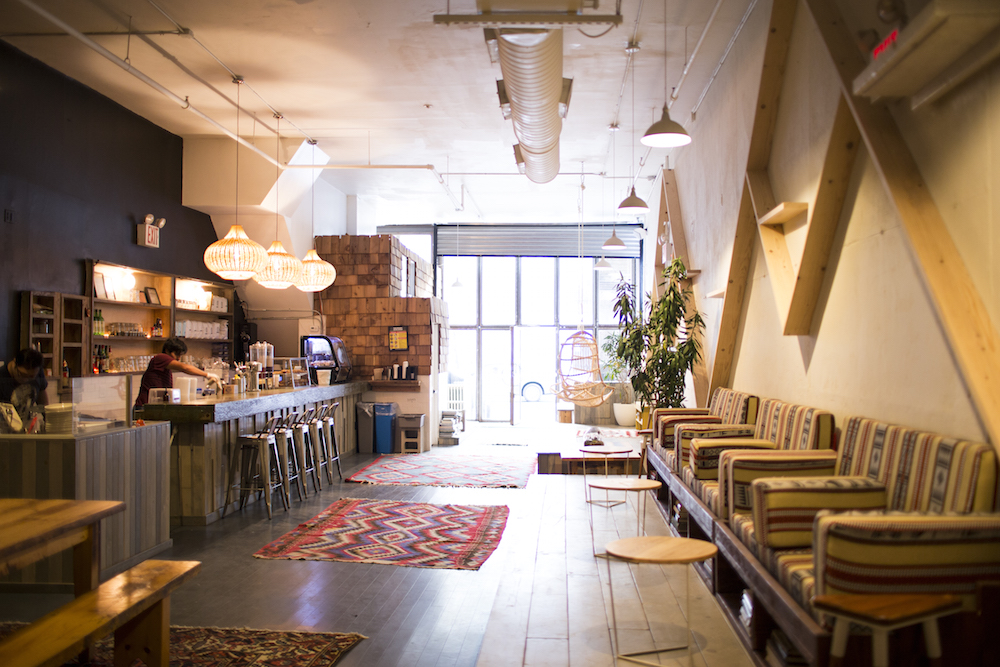 Sweatshop
Sweatshop is a quaint Australian coffee shop in Williamsburg.  It looks like a design headquarters, so don't freak out when you walk in because you don't have to be into design stuff to be welcomed.  They make some mean avocado toast and great coffee that will make you want to stay forever. So bring your laptop and be prepared to settle in and work for the day at 323 Metropolitan Ave.
Blank Slate
Located in the NoMad neighborhood, Blank Slate is a great place to go if you're looking for a great meal too.  They have salads, breakfast foods, sandwiches, desserts, coffee, and even drinks for when happy hour starts to roll around.  It looks like a coffee shop right out of Brooklyn, but instead it's steps away from Murray Hill.  Once you've finished working make sure to go sight see a little bit!
Devoción
Devocion is basically what you think of when you think of Brooklyn. There's exposed brick, repurposed pipes, and lots of natural light. The atmosphere is light and a great place to work. Choose from a leather sofa, a bar chair, or a table for two. Wherever you pick you'll be able to get your work done.  You can find this cute coffee shop at 69 Grand St, Brooklyn, NY 11249.