It's no secret that men are practically a living, breathing endorsement of lesbian porn: they love watching two women going crazy over each other (for their amusement/pleasure they like to think). Women however, do not share in the same adoration of gay porn, at least not to the same level. Whether this is down to the belief that men are more sexually driven than women or not, it needs to change.
Women need to embrace gay porn. Not for the same reasons men watch lesbian porn, though:
Better Blowjobs:
Put quite simply, gay porn is great for women that want to learn how to either give blowjobs, or to take their oral game to the next level. Women can suck on lollipops all they like, but nothing can quite prepare them for the deed than watching a man do it to another. It's the same principle for women: men will never know how to grope a boob or stimulate the g-spot better than a woman can, because they don't have those things. Women will never know what it feels like to receive a blowjob, so take a pointer or two from guys who have the know-how.
Hot Men:
Although this is the reason that many men watch Lesbian porn, it doesn't stop women from indulging in the same pleasure. If you find something good-looking -whether it be a beautiful landscape or a man's rock-hard abs-, you want to, and should look at it. gay porn is double the fun in that aspect. And for women that can't stand men who treat them like  toys, it might be nice change of pace to see them fawning over something other than a woman. (also proves that men aren't just assholes to women, too.)
Spotting Who's Straight:
There's nothing more heart-breaking on this earth than spotting an incredibly attractive man, plucking up the courage to walk over to him and take the effort to chat him up, all to discover he's not into women. Although they shouldn't, some women let that dent their confidence. Watching gay porn will help you to identify the sort of men that gay men swing for. If you spot a man that looks like he'd belong in bed with another man, you know to withhold yourself from getting too carried away. (by all means, you can still talk to him.)
Behavior:
Whether men are gay or not, they're still different to women. While it's true that not any one person is the same, there are commonalities, especially where sexual pleasure is concerned. You'll find that in most gay porn, men do not go straight for the money shot: they enjoy foreplay as much as women do, despite what some people think. You could also pick up some tips on how the men turn each other on. Most straight porn is geared towards a male audience, so there won't be too much focus on the man: it'll be the woman. Gay porn will let you see the men pleasure eachother.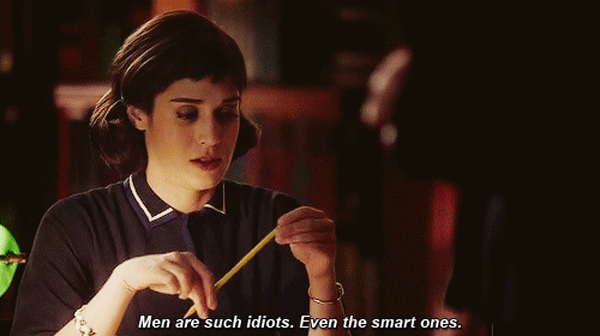 Putting Your Boyfriend In Place:
I'm sure there's been plenty of times that you've walked in on your boyfriend watching lesbian porn, or even had him discuss it with you. It is absolutely a sexist viewpoint on homosexuality if he's not willing to accept the over side of it, too. If it irritates you that he's a little too obsessed with watching women, stage it so that he walks in on you watching gay porn. He won't have a leg to stand on: it's exactly the same as what he does to you.
There is nothing at all wrong with a woman viewing gay porn, and if you give it a chance, you might at the very least find something else to entertain you when you're alone.