There are many places in North Carolina you hear plenty about, like the great capital of Charlotte and the beautiful Outer Banks. But somewhere in the Blue Ridge mountains of the tar heel state is a town you might not hear about as often as you should. Asheville, North Carolina has everything you're looking for and more: delicious cuisine, a thriving art scene, exquisite markets, impeccably cool weather and gorgeous mountain views.
If you're looking to move, love a good draft beer (or a fancy chardonnay) and aren't too attached to the coastline, Asheville is calling your name. Here are five reasons you should probably move there, ASAP:
The Thriving Art Scene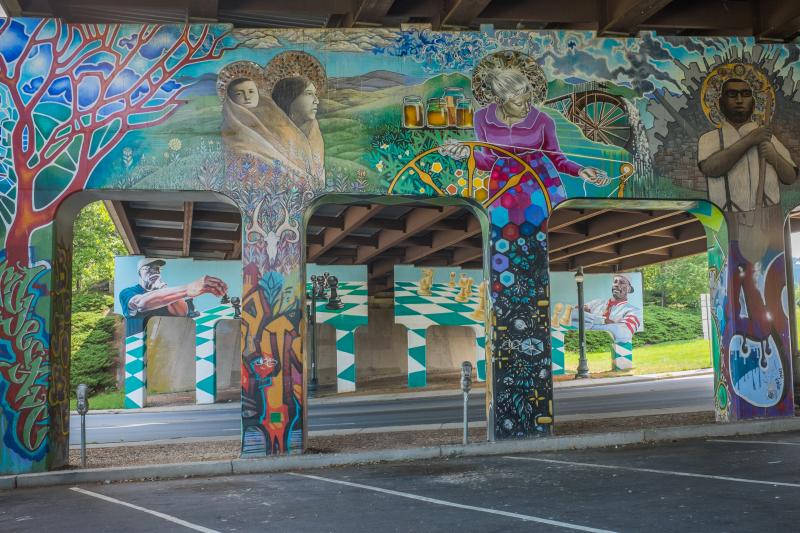 Asheville is known for its stunning street art that can be found around almost every corner. The city is also home to the River Arts District, an area full of shops featuring local artisans and creatives. There's also Pritchard Park, which is known for its assortment of street performers, including a mesmerizing drum circle that takes place every Friday night.
The Pour Taproom (Okay, Beer in General)
So maybe it's not proper protocol to pack up and move to a new town simply because of beer—but if that were to ever be the case, Asheville would be the place calling you home. The town boasts more breweries per capita than any other U.S. city, and has been named Beer City USA since 2009. While visiting, the Pour Taproom was one of my favorite places to visit. When you arrive you just open a tab and you're free to taste the most unique selection of 56 craft beers, ciders, & wines in Asheville, picking & pouring them yourself. The dog-friendly location lets you pay by the ounce. It's like an interactive beer museum—does it get much better?
The Blue Ridge Mountains
Here's a more socially acceptable reason to move to Asheville. The Blue Ridge Parkway provides a stunning drive, with mouth dropping views along windy, green roads. For those who want to get outside and hike, the Blue Ridge mountains surrounding the happy town sprovide countless trails and worthy viewpoints. The wilderness makes for the perfect escape, you could live in this location for years and still discover new adventures.
The Biltmore Estate
The Biltmore Estate is a large private estate sprawled over 8000 acres of property. Built by George Washington Vanderbilt II between 1889 and 1895 the mansion is still owned by one of Vanderbilt's descendants and is known today as one of the most prominent remaining examples of the Gilded Age. Also dubbed America's largest home, the sight is worth seeing. But why is it worth living near you ask? Simple: wine. The estate features an award-winning winery and vineyard, where you can find incredible deals and an annual vineyard harvest celebration.
The Weather
I visited Asheville in the fall, and no surprise–it was beyond beautiful. Featuring one of the longest fall foliage seasons in the U.S., Asheville has four seasons. And anyone, like me, who can't live without the seasons knows just how important this is to consider when choosing a new place to live. Because of its higher elevation, Asheville's summers are cooler than more eastern North Carolina cities and July's average temperature is a tolerable 78 degrees. Enough said?