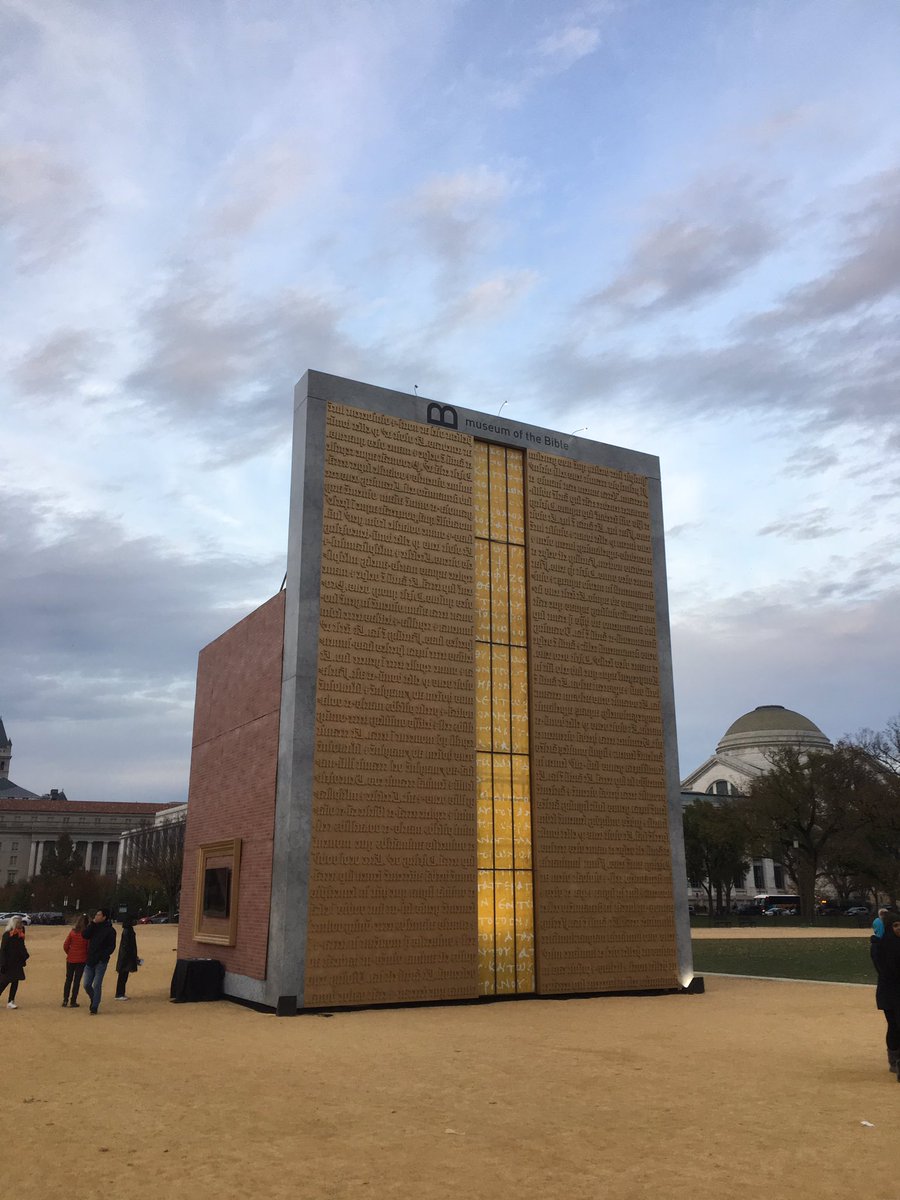 The Museum of the Bible will open Saturday in Washington, D.C. The $500 million museum will be the largest privately-funded museum in the city. Most Washington, D.C. museums are Smithsonian-run and free to enter.
A huge chunk of the money for the museum comes from the Green family, who operate Hobby Lobby and who have become famous for championing conservative causes. Hobby Lobby famously refused to provide contraception coverage to female employees. Their decision was upheld by the Supreme Court in a 5-4 vote.
It's a massive undertaking and early reviews of the museum have been largely positive. Time will tell what the overall impact of the museum will be, both on the city and on the future of museum funding in the nation's capital.
In the Capitol's Shadow, Massive Museum of the Bible Readies for Opening https://t.co/aLqGGML5AA pic.twitter.com/FnzNizt4pk

— CNMnewz.com (@CNMNewz) November 15, 2017
Giant recreation of the Bible on a Gutenberg printing press on the Mall right now. Put up by the Museum of the Bible, which opens Saturday. #MuseumoftheBible pic.twitter.com/BPg56hBsDu

— Tom Roussey (@tomrousseyABC7) November 12, 2017
"The Museum of the Bible" opens Saturday in Washington D.C. It cost $500 million, making it the largest privately-funded museum in the city. A big part of that money comes from the conservative Christian family-run company, "Hobby Lobby" pic.twitter.com/Rs3GIIZEwV

— CBS News (@CBSNews) November 16, 2017
Incredible ceiling at Museum of the Bible #mustsee #motb pic.twitter.com/3kLlPQ6j4z

— Ben Starling III (@benstarling3) November 14, 2017
Great day checking out the brand new Museum of the Bible- opens to the public on Saturday. Stay tuned for my list of must see things inside. pic.twitter.com/6c9lfVFQ6X

— Alex Gangitano (@AlexGangitano) November 14, 2017
Such an incredible night at the Museum of the Bible with friends and so many others. So thankful for the Green family! pic.twitter.com/l2bIxpIHzQ

— Billy Hallowell (@BillyHallowell) November 11, 2017
Perspective: The new Bible museum tells a clear, powerful story. And it could change the museum business. https://t.co/TMICk6iMJ7

— Washington Post (@washingtonpost) November 16, 2017
@museumofBible is an absolute Triumph! A must see stop for your holiday season. Make sure you plan for more than a day… pic.twitter.com/vAHTSZMnHx

— Makoto Fujimura (@iamfujimura) November 16, 2017
https://twitter.com/NPR/status/929146024068898822
Museum directors say they've made a determined effort to keep their own religious convictions separate from the design of the museum. https://t.co/kwpt9avqFt

— NPR (@NPR) November 13, 2017
"I just hope no one ever puts a brick through it" — New Museum of the Bible in DC runs exhibit on ways Americans have used scripture to support or reject slavery https://t.co/xdRZ4CisaK

— Michelle Boorstein (@mboorstein) November 16, 2017
The @museumofBible will open November 17. Take a sneak peek inside. https://t.co/H7wgWqwTFX pic.twitter.com/dMSc3hTSch

— Curbed DC (@CurbedDC) November 16, 2017
[Via Twitter]