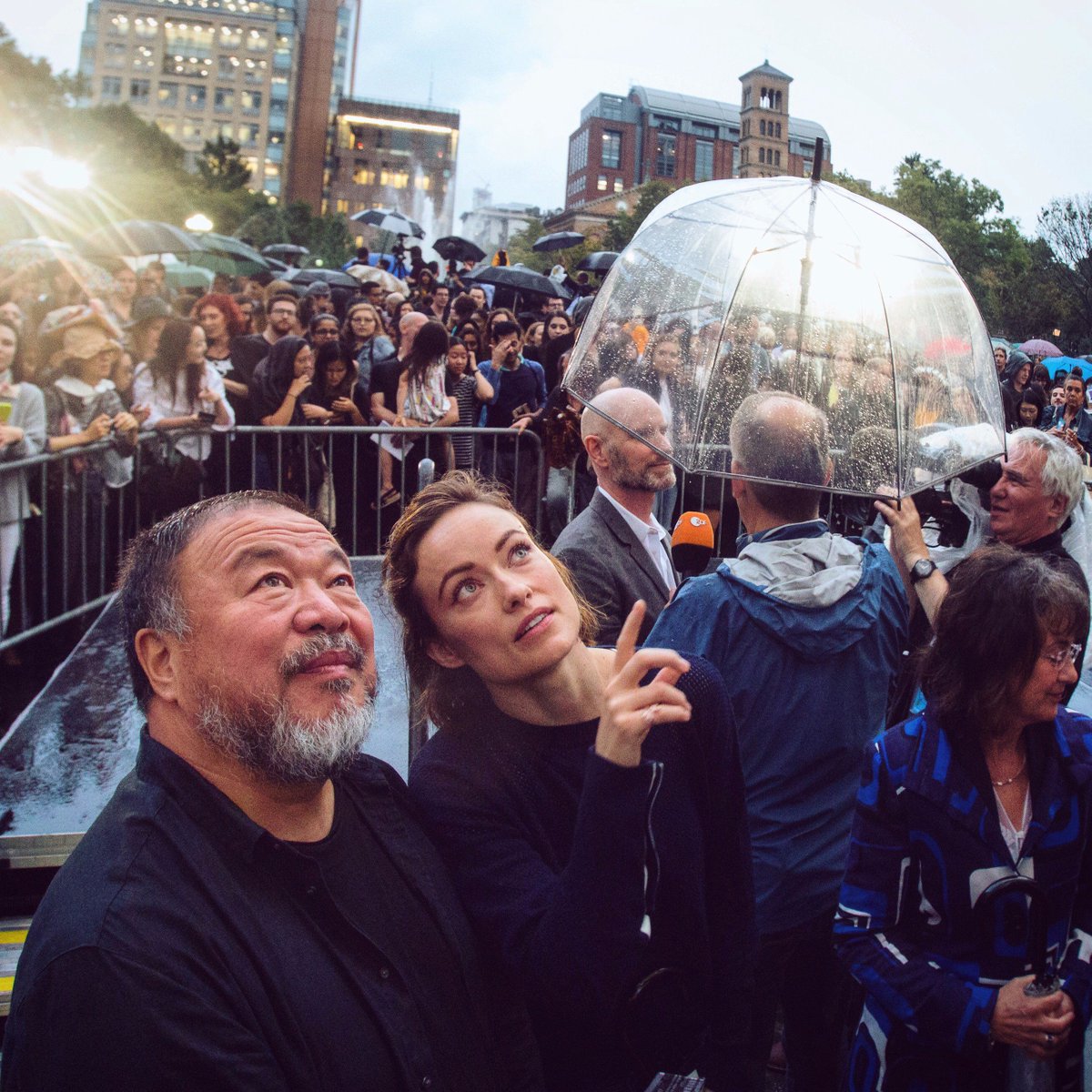 Ai Weiwei, the Chinese artist and dissident, has unveiled a series of public sculptures in New York City meant to draw attention to the plight of displaced people worldwide.
The sculptures, which form a collection called "Good Fences Make Good Neighbors," are located at more than 300 points throughout New York City, including Washington Square Park and Doris C. Freedman Plaza in Central Park.
The sculptures call to mind cages and fences and remind the viewer of the barriers facing migrants, refugees, and displaced peoples.
Ai Weiwei is as well-known for his activism as for his art, famously battling the Chinese government over democracy and human rights.
Ai Weiwei & Olivia Wilde look up at #GoodFences, a 300-site exhibition from @publicartfund abt divisions & humanity https://t.co/rJ9PlBRUdK pic.twitter.com/zrvdN7m2tb

— Liz Ligon (@lizligon) October 12, 2017
About last night, the public preview of "Good Fences Make Good Neighbors" by @aiww and the @PublicArtFund, Washington Sq. Park #aiweiwei pic.twitter.com/wq3EPOEVgl

— GreenwichVillage NYC (@GrnVillageNYC) October 12, 2017
Stars – they're just like us! Artist Ai Weiwei snapping a selfie (maybe?) in front of his newest installation in Central Park pic.twitter.com/MFJ3GWouGH

— Meghan Lalor (@MegaLalor) October 12, 2017
https://twitter.com/dnb1970/status/917485558154317824
Ai Weiwei at the Unisphere! pic.twitter.com/oSfTaaiD9v

— Adam Marcus (@marcua) October 7, 2017
#aiweiwei erects 'good fences make good neighbors' across new york city's urban sprawl @aiww @PublicArtFund https://t.co/6Gga05xGj1 pic.twitter.com/shsUHDTNZy

— designboom (@designboom) October 10, 2017
[Via Twitter]