Coffee has a special place in the heart of most Americans. it's a part of our soul. And with these new Dunkin' Donuts inspired sneakers, it can be part of your sole, as well.
The weirdest part of this is … they look pretty sharp. Yes, they have sprinkles and donuts on them. Yes, the DD logo is plastered on the tongue. But if you saw someone running in them, you wouldn't think anything of it.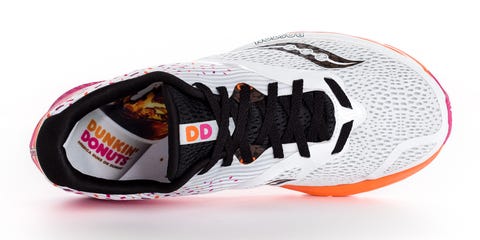 The shoe box perfectly mimics a box of doughnuts, showing that this collab missed no chance to make people smile and exhale out their noses in contentment. Especially when they realized the play on words of the company slogan, "America runs on Dunkin".
Saucony makes a new pair of shoes every year for the Boston marathon, and this won the vote for 2018. If their ploy is not-so-subliminal advertising, it's working. I could use a cup of joe right about now.
[via Delish]