Executions are down 37% worldwide; 1,032 people were executed last year, down from 1,634 in 2015, according to human rights watchdog group Amnesty International.
These numbers, however, may be completely inaccurate as the group says that China may be secretly executed an unknown number of people each year.
Amnesty reports that the number of documented executions in China may be thousands less than the true total. China is believed to have executed more people than all countries combined, but reliable figures are unavailable.
Amnesty reports that "hundreds" of death penalty cases were missing from China's national database, making media reports the only source for some suspected executions.
China remains the world's most prolific executioner, but executions are secret. We estimate thousands killed in 2016 https://t.co/HkOUNOmenG pic.twitter.com/gh3n0shLHx

— Amnesty UK (@AmnestyUK) April 11, 2017
The US managed to drop out of the countries with most executions this year for the first time since 2006.  This may soon change, however, as Amnesty reports a "shocking number of executions" scheduled in the state of Alabama this year.
The countries topping the list include Pakistan, Iraq, Saudi Arabia, Iran and China.
Out today: our annual report on executions & death sentences around the world for 2016 https://t.co/2EhVSQPBWG pic.twitter.com/Z1nsQbwn8W

— Amnesty UK (@AmnestyUK) April 11, 2017
While the numbers this year are down in comparison to last year, the figures are still higher than the average for the past decade, Amnesty says.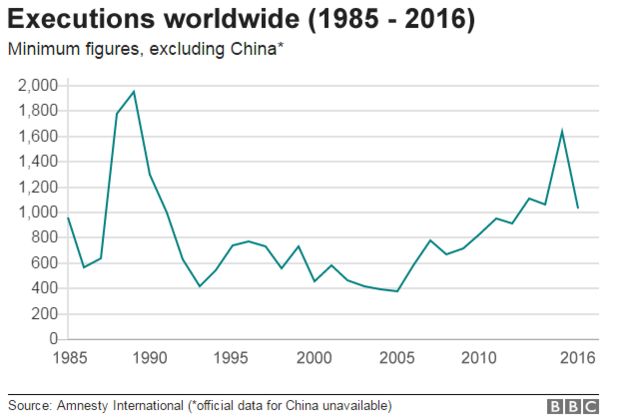 [Via BBC]