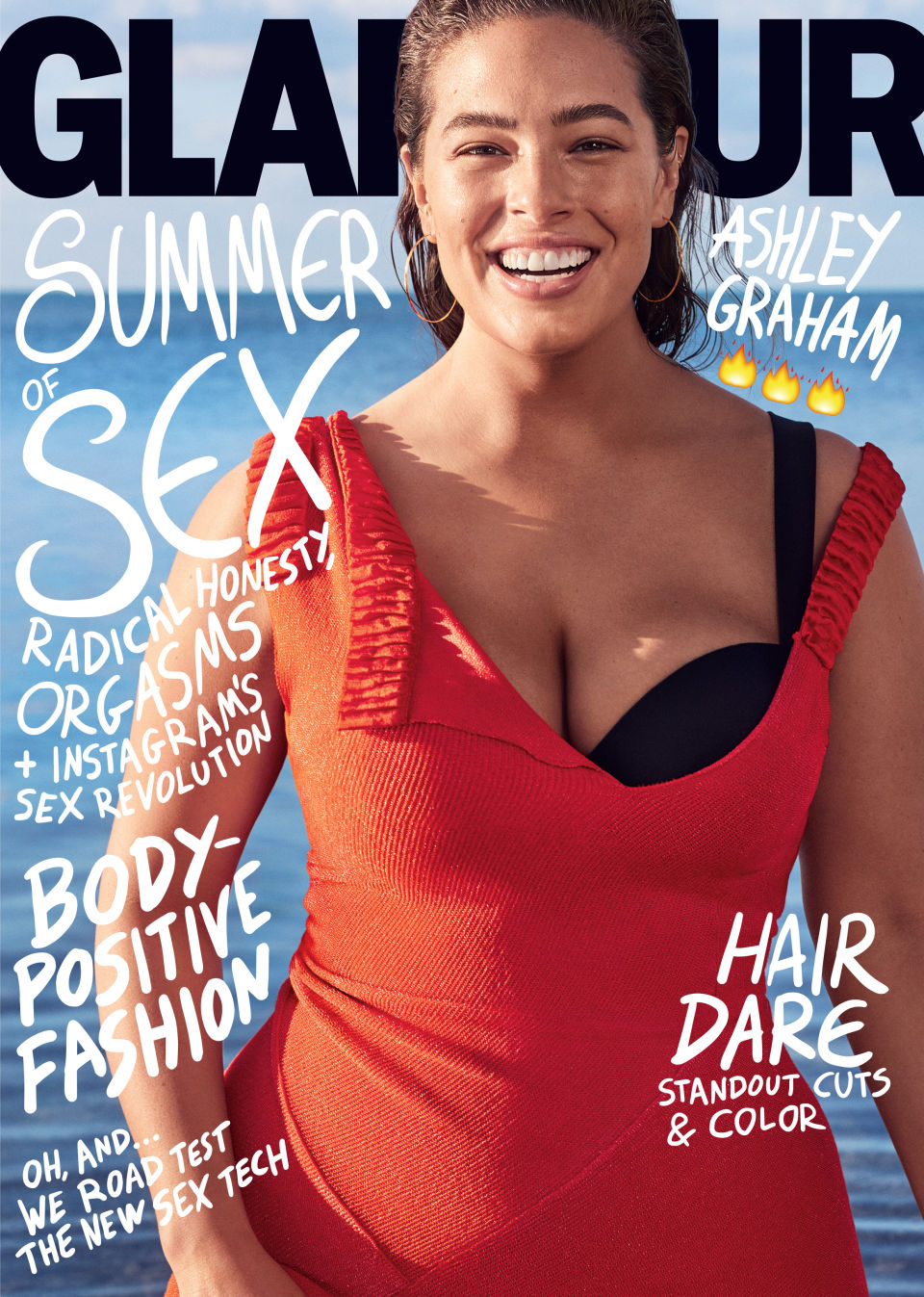 Body positive activist and overall inspiration, Ashley Graham, stuns on the cover of Glamour's July 2017 "Sex Issue". Channeling all the summer feels, the model captures readers with a big smile and a bright onesie—but it's the inside that counts. In the accompanying cover story, the model is interviewed by her friend Lauren Chan, a former model herself.
While Graham, the first to share photos of her cellulite to social media and tell of the time brands refused to loan clothes to Vogue for her cover, feels like an open book, there's one fashion horror story she had yet to reveal—until now.
"There was an incident on set of a campaign job when I was 17 years old — I haven't told this story — and there was a photo assistant who was into me. He was like, 'Hey, come here,' and he led me into a closet. And I was like, 'What?' I thought he was going to show me something," she says. "And he pulled me in, and he pulled his penis out. And he was like, 'Grab it.' And I was like, 'No! That's disgusting.' I freaked out. And thank God I was closer to the door, and I just bolted out."
Like many who have experienced sexual harassment in the workplace, Graham never felt able to report the incident. In fact, the photo assistant she speaks of is still working in the industry. "Sure enough, I've seen him at jobs since. I even knew a girl he dated. I didn't tell her because there was a voice in me that said, 'Maybe he's changed.' It was my young mentality," says Graham.
Leave it to Graham to turn such a terrifying encounter, into something powerful and inspiring. "I told myself, ever since that incident, that I wasn't going to allow someone at work to manipulate what I wanted to do on set," she tells Chan. "So any image that you see out there is one that I wanted to take."
Find the full interview on glamour.com and look for the July issue when it hits newsstands June 13.
[via Fashionista]