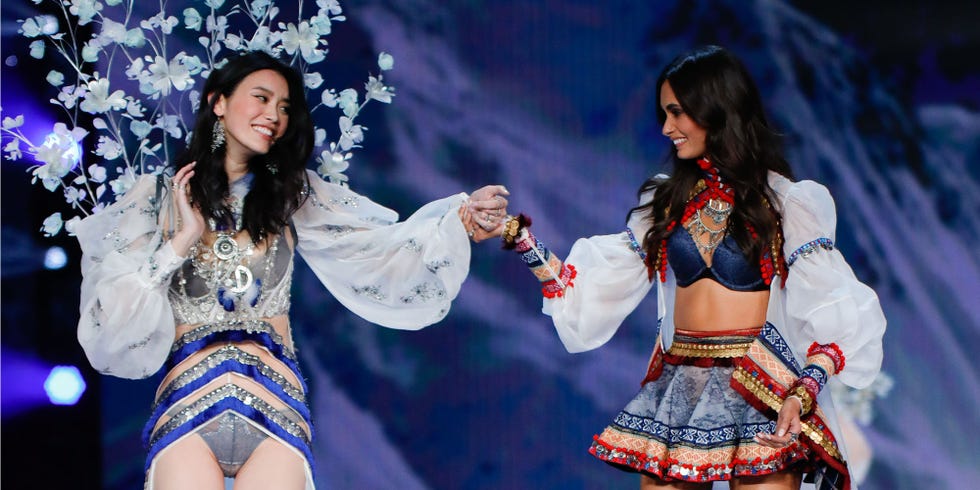 The Victoria's Secret Fashion Show aired last night and there were some pretty great moments overall. However, one moment that could have easily been edited/removed was a significant one. Ming Xi, in her hometown in China, slipped while walking, and was helped up by fellow model Gizele Oliveira.
The entirety of the slip was aired, including Oliveira offering a hand in support and Xi's break down backstage. The moment could have been shortened or completely removed, but it was kept for the entire world to see.
People on Twitter were not happy, to say the least:
omg and she's crying (tbh its a bit fucked up to air this part imho but then i recorded the footage to share on twitter so i dont really have a point i guess) pic.twitter.com/BvRpu0XANv

— alex rees (@maybealexislost) November 29, 2017
OH MY GODDDDDDDD I CANNOT BELIEVEEEEEEEE THEY SHOWED MING FALLING WHY WOULD THEY NOT USE THE REHEARSAL FOOTAGE MY GODDD I KNOW IT WAS NICE THAT GISELLE HELPED HER BUT STILL THAT'S HORRIBLE TO SHOW HER UPSET STOP #VSFashionShow

— Sam LaCour (@samklac) November 29, 2017
https://twitter.com/napturally17/status/935710788228141057
WHY DID THEY INCLUDE XI'S FALL BUT NOT ARIANA'S ICONIC HEAD-STUMP #VSFashionShow pic.twitter.com/PLkKLkcrBJ

— ㅤalex (@alexgracious) November 29, 2017
OMG she fell ! She's crying… And this is her hometown #VSFashionShow I'm crying with her poor thing. pic.twitter.com/o9bJFVyjhB

— No tears ☔️ (@kujaprince) November 29, 2017
https://twitter.com/napturally17/status/935711146337865728
However, Ming kept it together on stage; she smiled and got up graciously, walking without fear.
She fell but she put on a smile & finished that walk. You go, girl. #VSFashionShow

— Sydney Motes (@sydney_motesss) November 29, 2017
Ming did great.
[via Cosmopolitan]