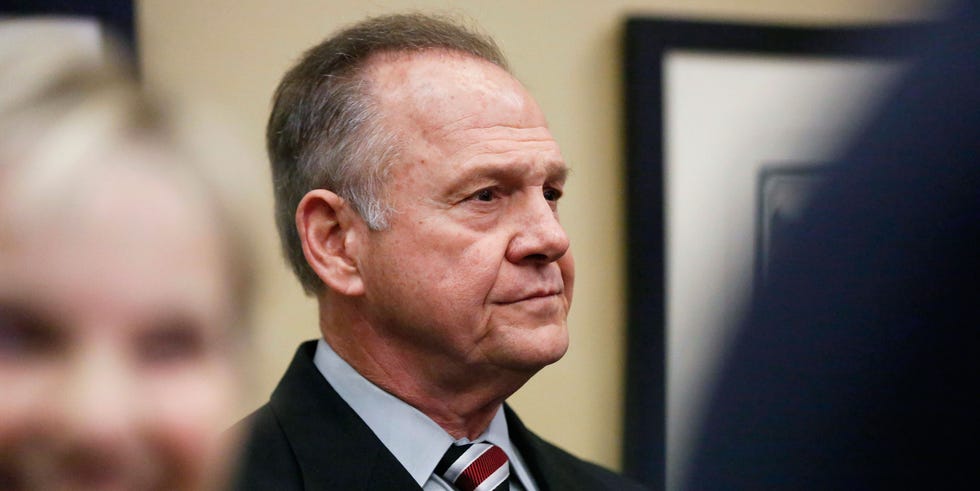 As we've all known already, but had confirmed this past week, sexual harassment does not just happen in Hollywood. Politics has seen it's fair share with Bill O'Reilly and the late Roger Ailes.
This current Senate race is currently in the midst of a sexual harassment scandal surrounding Republican Senate candidate Roy Moore. Several Republicans have already called on Moore to quit and drop out of the race, including Majority Leader Mitch McConnell.
Moore barked back at McConnell saying that he's the one who should drop out since he "has failed conservatives and must be replaced." McConnell, a Republican from Kentucky, believes the allegations that Moore sexually assaulted a 14 year-old girl when he was 32 years-old. "I believe the women," McConnell said. He also said that it is possible to select another candidate in a write-in effort. "That's an option we're looking at — whether or not there is someone who can mount a write-in campaign successfully," McConnell said.
After McConnell called on Moore to drop out, Moore tweeted his response: "The person who should step aside is @SenateMajLdr Mitch McConnell. He has failed conservatives and must be replaced. #DrainTheSwamp."
One moderate Senate member on the Democratic side is helping an opposing campaign manager raise funds. Senator Joe Donnelly from Indiana wrote an email in an attempt to solicit funds for Democrat Doug Jones. "Doug's opponent, Roy Moore, is an extremist with a record of putting political ideology above the rule of law." The email also claims that Jones is "the son of a steelworker" who was also a prosecutor and "worked to lock away members of the KKK and terrorists for despicable acts of violence."
As Moore faced increasing pressure from the Republican Party to quit, he addressed supporters in Huntsville, Alabama on Sunday night, saying the articles about him are "fake news" and "a desperate attempt to stop my political campaign."
The crowd applauded as he said the allegations were "untrue"and that The Post "will be sued." Moore also thinks that the allegations are meant to smear the campaign. "Why would they come now? Because there are groups that don't want me in the United States Senate," he said, implying that the Democrats and Republicans are working together. He continued, "We do not plan to let anybody deter us from this race."
Moore has even attempted to raise money from the allegations, writing that "vicious and sleazy attacks against me are growing more vicious by the minute."
Although Moore has denied involvement with any of the women accusing him of harassing them, he admitted to Sean Hannity that he was not opposed to dating a teenager when he was in his 30s, aka the same time the events in the allegations too place. When asked if Moore if it would have been "unusual" for him, Moore replied, "Not generally, no."
He has got to go.
[via Cosmopolitan]