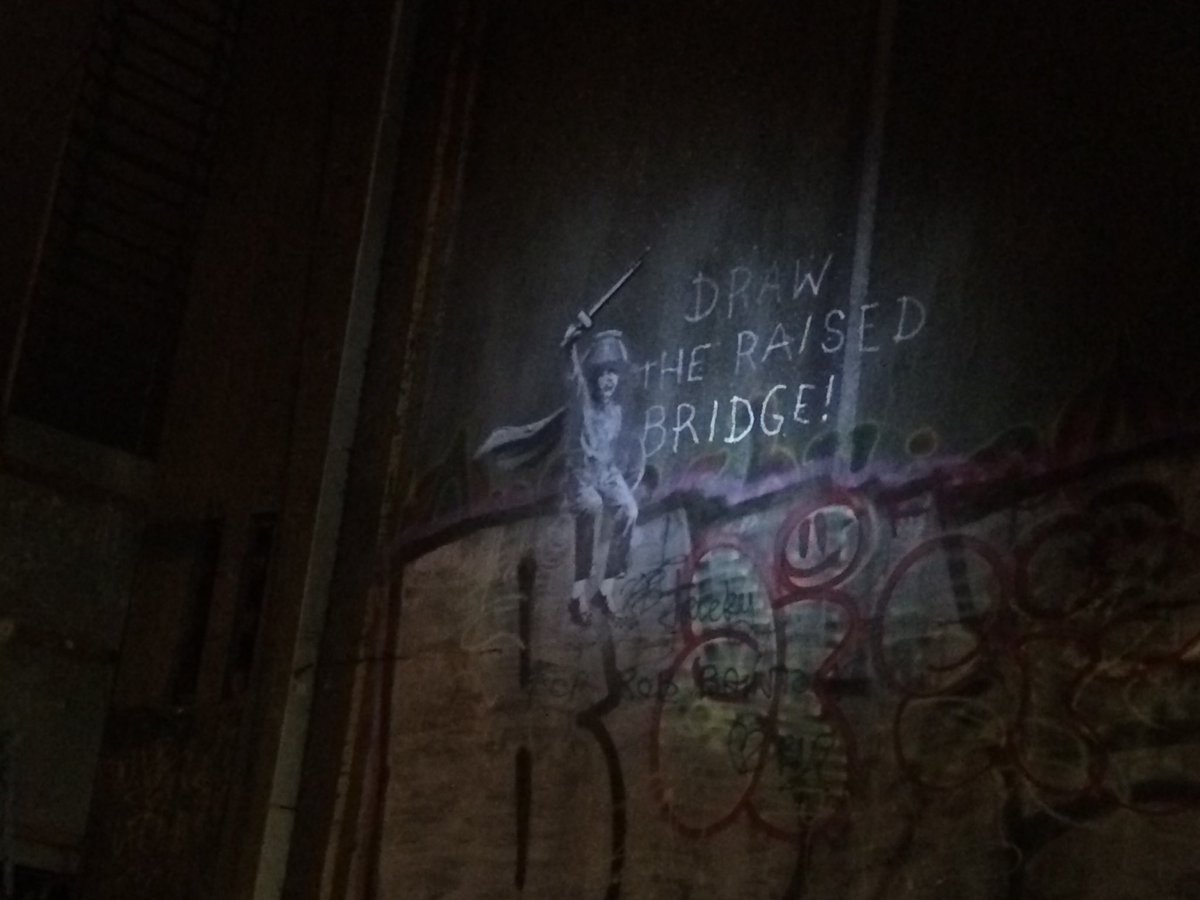 Instagrammers, rejoice: graffiti artwork on a disused bridge in Hull, England has been restored by a window cleaner and a team of helpers after being sprayed over. The work, which reads, "Draw the raised bridge!" is suspected to be a Banksy original. The graffiti has caused major discourse in the town, with some disapproving of the vandalism and others appreciating that it's done by Banksy.
Among the Banksy fans was Jason Fanthorpe, a window cleaner who set out to restore the artwork on Scott's Street Bridge. He used water and white spirit to restore the piece, with help from others in the community.
https://twitter.com/Bethanysmith__x/status/957758971674324994
The graffiti art is not as distinct as it once was, but it is still intact. Hull has decided to embrace the famous vandal's work, even placing a protective plastic layer over the work to prevent another incident.
The protective layer is now on top of the Banksy art-work on #Hull's Scott Street Bridge. Large crowds are forming to watch. pic.twitter.com/VdGMlw0h2Y

— David Harrison (@DaveHarrisonBBC) January 29, 2018
The Banksy graffiti has pulled in quite a crowd to the town, with visitors traveling in from Bristol and Manchester to photograph the original work. The humble savior Fanthorpe reluctantly agreed to pose for a picture after finishing the restoration.
Just had a chat with Jason who helped save the Banksy mural in Hull. He says he was just one of a huge team of people who went to help so he feels he doesn't deserve all this credit (PS I forced him to have this photo! Thanks Jason and team!) pic.twitter.com/epQC7Q8tsd

— Caroline Brockelbank (@CBrockelbank) January 29, 2018
I'm sure white girls with Instagram themes and dudes who wear cuffed pants and Vans are rejoicing!