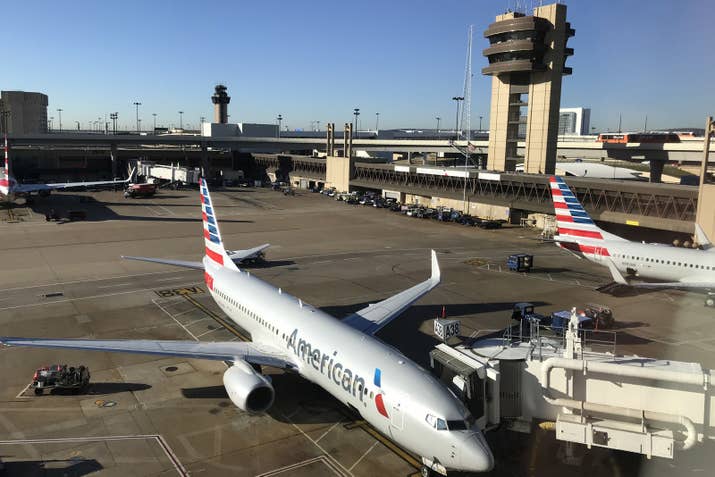 Oops! After a scheduling glitch, American Airlines realized that wayyyyyy too many pilots received vacations at the same time, therefore they have a shortage of pilots for the holiday season. 15,000 flights from December 17 – December 31 have been left without a crew. Yikes.
The Allied Pilots Association, the airline pilot union, released a statement to its members saying the glitch was due to a "failure within the pilot schedule bidding system." It also said, "As a result, thousands of flights currently do not have pilots assigned to fly them during the upcoming critical holiday period."
A statement from American Airlines said that the company is "working diligently to address the issue and expect to avoid cancellations this holiday season." It continued, "We are paying pilots who pick up certain open trips 150 percent of their hourly rate."
That sounds all fine and dandy from one standpoint, but in reality it's kind of impossible. The pilot's union has stressed that American Airlines is violating pilots' contracts because payment is not guaranteed. "Because management unilaterally created their solution in violation of the contract, neither [the union] nor the contract can guarantee the promised payment of the premium being offered," the Allied Pilots Association said.
The airline responded to their concerns: "We will work with the APA to take care of our pilots and ensure we get our customers to where they need to go over the holidays."
That's an extremely unfortunate situation for everyone involved. Murphy's Law is truly at work here.
Of course, people had jokes about the situation, most from the movie Airplane!:
— Philip Schreiber (@PJS827) November 29, 2017
when the new pilots volunteer and end up flying through the snow storm during tht christmas break lmao pic.twitter.com/ilhvdW9Haq

— DonKTheRapper (@DonKameron) November 29, 2017
Meanwhile at American Airlines IT Dept…. pic.twitter.com/6rfvXvf3jm

— The Spacebar Kid (@TheSpacebar_Kid) November 29, 2017
One joke was more….current:
American Airlines realizing all their pilots took vacation during Christmas week pic.twitter.com/dxOrvdCtUc

— The Scud Stud (@TheScudStud) November 29, 2017
Another was downright clever:
The Glitch pic.twitter.com/d4AbFnweyD

— Mikael Pawlo (@mpawlo) November 29, 2017
American Airlines has to hope for a Christmas miracle!
[via BuzzFeed]