Around 11:15 am Sunday, shots were fired at the Burnette Chapel Church of Christ in Antioch, Tennessee. Mass was ending, and most parishioners had left by the time the 25 year old gunman opened fire.
Wearing a ski mask, Emanuel Kidega Samson entered the Burnette Chapel and opened fire. In the process, a 39 year-old woman was fatally shot and several others were wounded. During the shooting, an usher attempted to stop the gunman. During the scuffle, the gunman received a self-inflicted gunshot wound. The usher subdued Samson and retrieved his own gun from his car which he held on Samson while the police arrived.
Gunman in church shooting is Emanuel Kidega Samson, 25. He has been released from hospital and will be charged with murder and att murder. pic.twitter.com/VuCUgJ3JIQ

— Metro Nashville PD (@MNPDNashville) September 24, 2017
The motive has not yet been made clear, but parishioners recognized Samson from attending services about a year ago, and are unsure what caused him to go to the church today.
A woman who lives near the church gave an interview about victims from the shooting showing up at her front door:
VIDEO: Woman next door to Burnette Chapel Church Of Christ in #Antioch describes shooting victims showing up at front door. @WKRN pic.twitter.com/zMDVR37pZw

— Josh Breslow (@JoshBreslowWKRN) September 24, 2017
Her husband went to the scene after hearing the news:
VIDEO: Man living near Burnette Chapel Church Of Christ describes victims of shooting coming to his home; he went to church to help. @WKRN pic.twitter.com/Fp4TgKV82J

— Josh Breslow (@JoshBreslowWKRN) September 24, 2017
From Samson's Facebook profile, his main interests were working out and he includes the Bible and Jesus on the list. Around the time of the shooting, three posts were put up by Samson on his Facebook.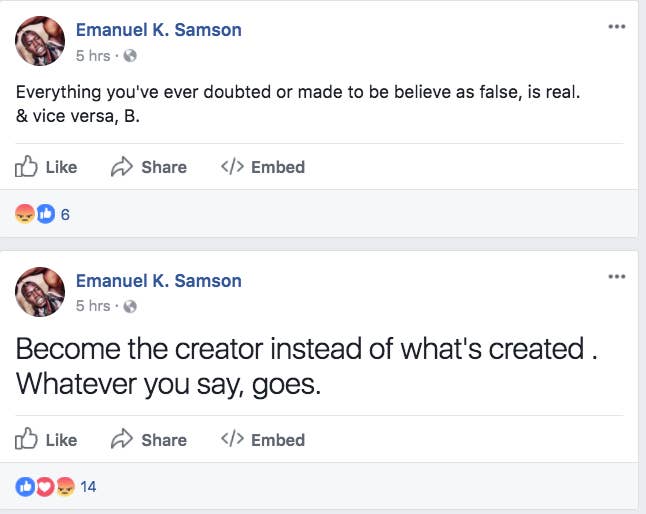 Another said, "You are more than what they told us."
Samson is going to be arrested and charged with murder and multiple counts of attempted murder.
[via Buzzfeed]