Amazon's latest announcement of their plans to open another headquarters in North America has ignited the $5 Billion bidding war battle.
Amazon's newest step towards their "HQ2" has sparked multiple cities and economic development organizations to offer proposals. The Seattle based company has even established a deadline – October 19. Amazon spokesman, Adam Sedo, stated to CNN:
We're energized by the response from cities across North America who have expressed interest in hosting Amazon HQ2. We invited cities to think big and we are starting to see their creativity.
And, oh, have they! Here are just some of the cities who are eager to persuade Amazon's decision:
In Tucson and Southern Arizona – Sun Corridor, an economic development group, delivered to Amazon a 21-foot cactus via a single truck. Their aim? To submit a piece to show the Amazon team that they "have room for [Amazon] to grow [there] for the long term."
Unfortunately, Amazon tweeted their inability to accept any gifts:
https://twitter.com/amazonnews/status/910172649086693376
Birmingham, Alabama has also been theatrical – planting massive Amazon boxes around the city to let Amazon know their intentions are pure and that they can deliver: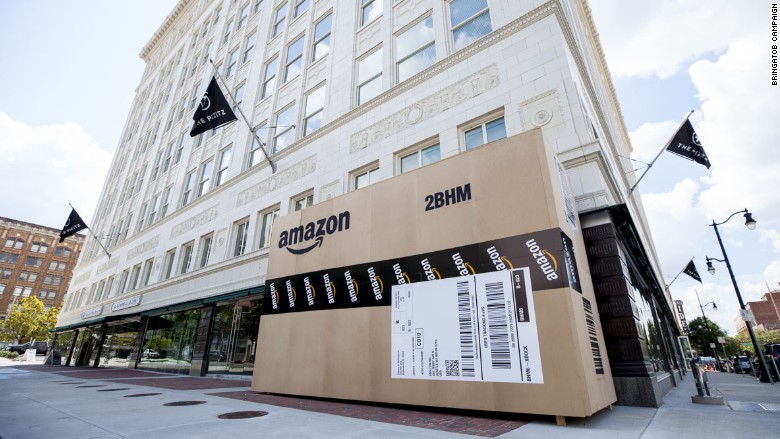 Stonecrest, Georgia – a city with a 53,000 population, has voted to demolish 345 acres of its land to house "the city of Amazon." Stonecrest Mayor Jason Lars motives to offer Amazon the capacity to control their brand and "their own city forever," may prove appealing to the Seattle based company (2,654.6 miles away.)
Maybe some cities should join in making one bid? Like California's Bay Area… Their cities do not currently have details on any enticing package but a spokesman has stated:
We won't be including any cacti. But we may throw in a pinot…
Try not to shake your head when you hear New York City Mayor Bill de Blasio report that "he's never shopped on Amazon before…" While Amazon plans to open an office in NYC, de Blasio's administration is still planning a proposal for the "HQ2."
Toronto and Vancouver have also displayed interest for the "HQ2" to be established in Canada. Their angle that they have an open immigration policy may be appealing to both Amazon's access to global talent and their intentions of hiring as many as 50,000 workers.
With a little over 2 weeks away – cites will need to continue stepping up their game to win the battle for Amazon's "HQ2."
[via CNN]