Cole Sprouse Tweeted About Chamillionaire's Name and Got a Pretty Amazing Response
I'm sure you've said to yourself a million times, "Hmm, I wonder what a Twitter exchange between Cole Sprouse and Chamillionaire would look like." I mean, it's a question we've all been asking for years.
Well, now it looks like we've finally got our answer.
Sprouse voiced a question of his own on Twitter about how Chamillionaire came up with his rap name.
So I'm confused, was Chamillionare named because of how much money he has, or because he owns millions of chameleons?

— Cole M. Sprouse (@colesprouse) March 27, 2018
Chamillionaire found Sprouse's tweet while cruising along the Twitter-verse and gave an answer most of us weren't expected.
The name Chamillionaire derives from the backwards spelling of "Erian oilli mahc". Which means "The Truth Teller" in the Wakandan language. https://t.co/w6zWZdbSrm

— Chamillionaire (@chamillionaire) March 28, 2018
Much like you and me, Twitter went nuts over this exchange.
I never thought I would see the day: @chamillionaire: 1. @colesprouse: 0. These are strange times indeed.

— Thom Murphy (@thomdit) March 28, 2018
What the hell just happened lol
Did Chamillionaire & Cody from suite life just have a convo lmaooo pic.twitter.com/Wu64gTjWW1

— Starboy (@StarboySqeez3r) March 28, 2018
However, it looks like Chamillionaire was just messing around with his answer, as his Wikipedia article says otherwise.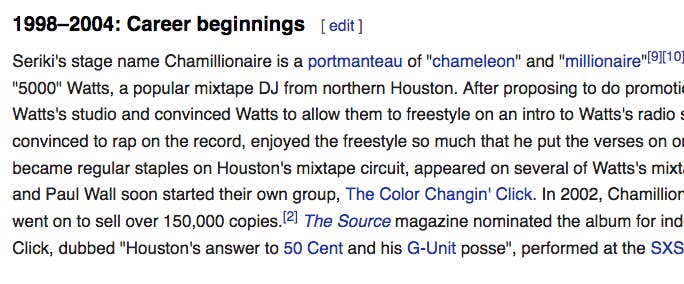 Regardless of the facts, I'm still insanely glad that this happened and my ever-burning questions have been answered.