Dream Killer Victoria Beckham Says the Spice Girls Aren't Going on Tour
Honestly, I'm so sick of this. I can't keep getting my feelings toyed with like this.
Last week, after fucking YEARS of speculation, we told you that the Spice Girls getting back together to go on tour. The tour was supposed to start at the end of this summer and go to the UK and US. Then, to prove that it was real, there were reports that the girls got back together with their tour manager, Simon Fuller, who would be in charge of this tour as well.
Fucking hell, Victoria even uploaded a picture of them together:
Now, Posh is being a bitch and telling everyone it's not happening.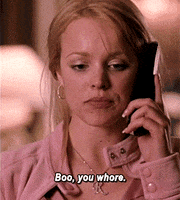 Ahead of the New York Fashion Week premiere of her fall/winter 2018 collection, Beckham told Vogue,
"I'm not going on tour. The girls aren't going on tour."
Even though there may not be a tour, Beckham did confirm that they are in talks to do something with the group's '90s girl-power brand.
Ugh, whatever.