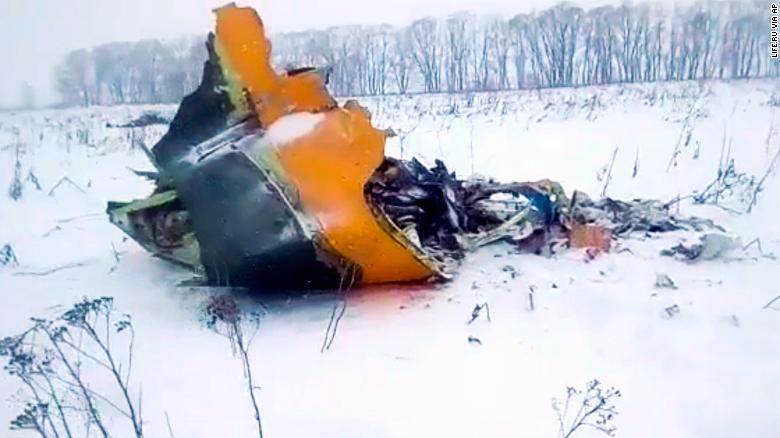 On Monday, at the site where the Russian plane crashed into the snowy terrain, killing all 71 people on onboard, emergency workers found around 200 body parts dispersed all over and around the wreckage.
A spokesman from a Russian emergency ministry said that a team of 600 will scour the area of the crash site to remove all of the body parts by Monday evening. Earlier, Svetlana Petrenko, a spokeswoman for the Investigative Committee of Russia, detailed just how expansive the area in which the debris of the plane and the body parts had spread.
"The scatter of fragments of the aircraft and bodies of dead passengers occupies a large territory; the radius is not less than 1 kilometers (0.6 miles)," said Petrenko.
The Antonov An-148 aircraft, which was headed to the Russian city of Orsk, near the border with Kazakhstan, was carrying 65 passengers and 6 crew members when it disappeared from radar shortly after takeoff from Moscow's Domodedovo Airport. The state news agency, RIA Novosti, reported that among the passengers were three children, aged 5, 13, and 17. Both flight recorders from the plane had been recovered for an investigation.
While the cause of the crash remains uncertain, the Investigative Committee said that officials have launched a criminal investigation, as all possible causes are being explored. The Saratov Airlines employees and Domodedovo Airport workers were questioned by authorities. The workers reported to authorities that there were no problems before the plane crashed.
However, according to Flightglobal, the news and information website that covers the aviation and aerospace industries, said that the An-148, which is a Ukrainian-designed regional jet, have been sharply criticized by the GTK Rossiya for its reliability, citing problems in the engines and electrical systems.
[via CNN]