The House of Givenchy is sad to report the passing of its founder Hubert de Givenchy, a major personality of the world of French Haute Couture and a gentleman who symbolized Parisian chic and elegance for more than half a century. He will be greatly missed. pic.twitter.com/xapm0zSwDy

— GIVENCHY (@givenchy) March 12, 2018
Hubert de Givenchy gave several celebrities their classic looks we are all familiar with. He designed for Audrey Hepburn, Elizabeth Taylor, Jackie Kennedy and Grace Kelly. His style influenced designs of the 50s and 60s. Over the weekend, Givenchy died in his home at the age of 91.
At 24 years old, in February of 1952, Givenchy debuted his first fashion collection. Givenchy's style was new to the fashion industry because he introduced the concept of "separates" for women's fashion. According to NPR, a British fashion writer said, "these dresses remind you of that first, best glass of champagne." Similar to Christian Dior's "New Look," which had smaller waists, Givenchy's style had a cleaner and lighter look.
Eventually, Givenchy owned his own design house which he sold in 1988 to a "luxury-brand conglomerate." John Galliano succeeded Givenchy and then Alexander McQueen. Riccardo Tisci is currently running the Givenchy label.
Givenchy was Audrey Hepburn's favorite designer and she even wore his designs for some of her films like Sabrina(1954), Funny Face (1957), and Charade (1963). The most iconic look Hepburn wore, her black cocktail dress in Breakfast at Tiffany's was a Givenchy design, which made the "little black dress" a mainstream item. Hepburn and Givenchy were good friends until her death in 1993. The BBC quoted Hepburn saying, "Givenchy's lovely simple clothes [gave me] the feeling of being whoever I played."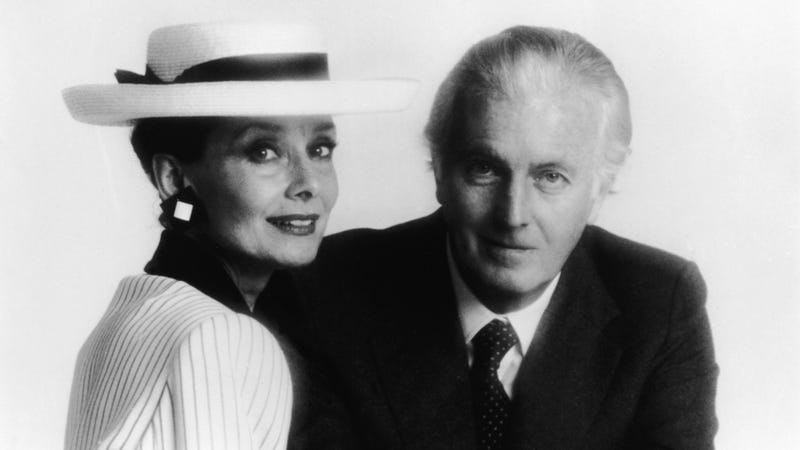 Philippe Venet, fashion designer and Givenchy's partner, survives him. His family has asked that fans donate to UNICEF to honor the late designer.
[via AV Club]