The U.S. Women's Open was hosted at the Trump National Golf Club in Bedminster, New Jersey on Saturday, a familiar venue for President Trump and his family who have recently been staying nearby the past weekend.
President Trump and his son Eric showed up to the Trump owned golf course to watch the golf tournament Saturday. This isn't the first time the First Family has made headlines for their travels to Trump owned properties, while some argue this is a conflict of interest President Trump and his family don't see it that way. Donald Trump has chosen not to fully detach from his business, and so his continued promotion of events at his properties should come as no surprise, while others see it as problematic optically and ethically.
Just got to the #USWomensOpen in Bedminster, New Jersey. People are really happy with record high stock market – up over 17% since election!

— Donald J. Trump (@realDonaldTrump) July 15, 2017
As if conflict of interest was not enough, other problems arose when People reported he caused "a big commotion" and disturbed the tournament just with his presence. According to People, they said, "You just can't expect peace and quiet when President Donald Trump comes to town. Even if it's for some of the best golfers in the world to make their shots." And the Associated Press adds that it was "a security challenge."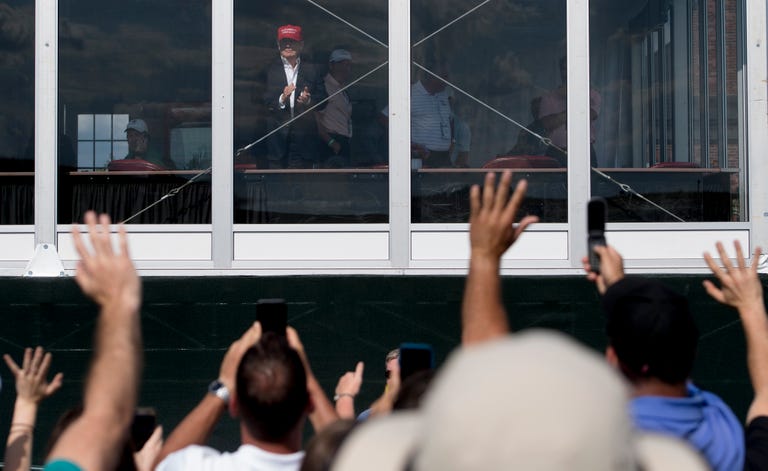 Excessive cheering, jeering, protests, selfies, and distracting noise filled the air, AP reports that golfer were distracted. While in the middle of the 15th and 16th hole, "crowds were asked to keep it down," crowds gathered where Trump and his family had camped out. Some professional golfers were upset with being so upstaged in their moment in the spotlight. Golfer Lexi Thompson told AP she was aware most of the spectators were not even really watching her play.
Also, golfer Marina Alex told People that, "whether you are a fan of Trump or not a fan of Trump, having a president at a women's golf event is pretty remarkable… it's going to draw attention to women's golf that as maybe never been in our favor before."
Despite personal feelings, golfers playing Saturday found the President's distracting. Whether that is a good thing, or as Alex thinks it as a good thing, Trump never passes an opportunity to tell everyone how great he is. Don't talk about the event, the women, or the sport of golf and how it brings all sorts of people together, instead, talk about how people were there to see you. Classic Donald.
Thank you to all of the supporters, who far out-numbered the protesters, yesterday at the Women's U.S. Open. Very cool!

— Donald J. Trump (@realDonaldTrump) July 16, 2017
[via Cosmopolitan]