Here's All the Cool Stuff Coming to Disney Theme Parks in the Near Future, Including a Fully Immersive Star Wars Hotel
D23, Disney's convention that they hold every 2 years, just concluded, and there are a lot of announcements we need to discuss, especially those pertaining to theme parks.
We got some exciting announcements this year, mostly centered around Disney World, so let's break things down by park.
Parks outside of the United States didn't get that much love this year beside's the announcement of Disneyland Paris' Hotel New York is getting "reimagined" into a "new Marvel-themed wonderland."
"We're going to create a hotel at Disneyland Paris that would make Tony Stark proud," sai Disney Parks and Resorts Chairman Bob Chapek. "I'm thrilled to announce that Disney's Hotel New York – The Art of Marvel will transport our guests to the action-packed, inspiring world of Super Heroes including Iron Man, The Avengers, and Spider Man among others!"
Ok, now onto Disneyland. Besides Star Wars Land (which we'll get to later), Disney California Adventure is Pixar-fying one of it's areas:
"Pixar Pier will feature a brand-new look for the area now known as Paradise Pier, as some of your favorite characters come to life on this seaside waterfront. You will discover whimsical neighborhoods filled with your friends from "The Incredibles," "Inside Out" and even more of your pals from "Toy Story." Building upon the evolution of Disney California Adventure park that began in 2007, we are building more new worlds for you to step into and enjoy your favorite stories."
In addition, Chapek teased that a Marvel themed land will be coming to California (since Universal basically has the rights to most Marvel characters in relation to theme park attractions, but only in Florida). Though there's no official timeframe on when this might happen, Disney promised that the Guardians of the Galaxy, "will be joined by Spider-Man and the Avengers in what will become a completely immersive Super Hero universe at Disney California Adventure park."
Ok, now onto Disney World. D23 gave tourists and locals alike exciting announcements that sure to draw crowds for the park's 50th anniversary in 2021.
Starting with EPCOT, the Imagineers are really looking to update the whole park, as recent rumors had been suggesting. For now World Show case looks like it's going to be untouched, minus the addition of a Ratatouille theme attraction, similar to the trackless Ratatouille: The Adventure in Disneyland Paris, to the France Pavilion. The ride will let guests "shrink to Remy's size and scurry to safety in a dazzling chase across a kitchen with the sights, sounds and smells of Gusteau's legendary Parisian restaurant," and will not be replacing any attraction that's already at the pavilion.
As for future world, start getting excited. First, not only is Mission: SPACE getting a new green mission (AKA the less intense version) that could be open as early as this August, but adjacent to the ride will be a new space themed restaurant that'll "offer amazing meals with spectacular views high above Earth."
But that's not all for Future World. In what might be my favorite announcement of the Parks and Resorts Panel at D23, Disney announced that a Guardians of the Galaxy ride is coming to EPCOT!
Replacing the Universe of Energy attraction, which will close this August, not much is know about the ride, other than it will be different from California's "Mission Breakout," and will be "based on the rockin' and action-packed world" of the films. Also, for those who think the Guardians don't fit into the theme of EPCOT, apparently Peter Quill (aka Star Lord) actually visited Epcot as a kid, as seen in the picture below.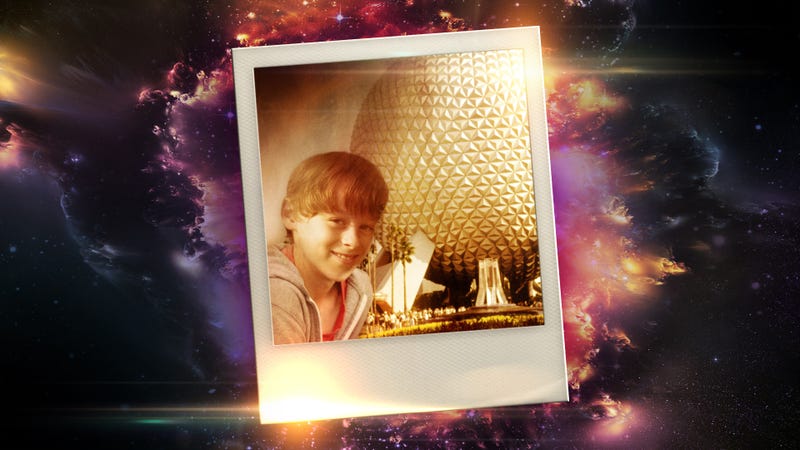 The MagicKingdom will also be getting a futuristic ride based off a popular film franchise. Tomorrowland is set to get a copy of the Tron Lightcycle Coaster that debuted at Shanghai Disneyland last year.
The ride will sit in a new area next to Space Mountain, and is set to open in time for the park's 50th anniversary in 2021, along with the Guardians of the Galaxy ride.
Hollywood Studios also got it's fair share of announcements. Fans of the Great Movie Ride are a bit disappointed that the attraction will be closing down this August to welcome the first ever Mickey-themed attraction: Mickey and Minnie's Runaway Railway.
Inspired by the Mickey Shorts on the Disney Channel, the ride feature brand new theme park technology that that will immerse you into the cartoon but will require no 3-d glasses. They're calling it "2 1/2 D."
Walt Disney Imagineer Kevin Rafferty said teams are inventing new technologies that turn the flat world of a colorful cartoon short into a "dimensional display of amazingness."

"This is one of the boldest…most impossible things I've ever worked on in almost 40 years of being an Imagineer. And you know what? That's what I love about it. Well, that, and Mickey," Kevin said. "This is not going to be a small attraction, it's going to be game-changing."
The highly anticipated Toy Story Land finally got an opening date of Summer 2018. The land will feature two new themed attractions: Slinky Dog Dash, a family coaster attraction, and Alien Swirling Saucers, which is "designed as a toy play set that Andy got from Pizza Planet."
And now, on to the news you've all been waiting for: Star Wars.
First, Star Wars Land (which is opening on both coasts in 2019, but in California first, you lucky bastards), finally has a name: Star Wars: Galaxy's Edge.
Galaxy's Edge will allow guests to "visit a remote trading port on the edge of wild space, where Star Wars characters and their stories come to life – and where guests will find themselves in the middle of the action."
This totally immersive land will feature two attractions that will effect the way characters will interact with you during your stay in the park:
"One attraction will make you feel like you're on a Star Destroyer inside a hangar bay. It's an attraction built on a scale we've never done before.

The second attraction will give guests the opportunity to fly the Millenium Falcon, piloting the ship, shooting blasters or preparing for hyperspace – all while completing a critical mission. But how you perform on the mission holds even bigger stakes: perform with skill and you may earn extra galactic credits, while bringing the ship back banged up could put you on the list of a bounty hunter. End up on Harkos's list and you may face a problem if you show up at the local cantina!"
The cantina, the land's only known restaurant, will serve "unique concoctions" like the universe's infamous blue milk.
But, the best announcement to come out of D23? Disney World is building a fully immersive Star Wars hotel!
"It's unlike anything that exists today." saidBob Chapek. "From the second you arrive, you will become a part of a Star Wars story! You'll immediately become a citizen of the galaxy and experience all that entails, including dressing up in the proper attire. Once you leave Earth, you will discover a starship alive with characters, stories, and adventures that unfold all around you. It is 100% immersive, and the story will touch every single minute of your day, and it will culminate in a unique journey for every person who visits."
So it's like Westworld, but for nerds? Sign me the fuck up!
Are you saving up money for your inevitable stay at the Star Wars hotel? Or will you be putting it towards a trip during Disney World's 50th anniversary?
Let us know in the comments below!
[Via Disney Parks Blog]