Here's What Happened On Last Night's Episode of 'Real Housewives of New York City'
Ramona shopped with daughter, Avery, at Henri Bendel where Ramona insisted that Avery take off her coat while indoors "because of extreme temperatures":
Out for drinks with Tinsley and Sonja at Beautique, Ramona placed the following drink order, announcing that "it's her new thing": "I WOULD LIKE TWO THINGS: a tall glass of ice water, but in a stem glass, with a straw, very light vodka, like a half a shot on ice, with club soda, three limes and a straw and another tall wine glass.":
Then, Tinsley asked her for some dating tips. Ramona's advice: go to gyms and steak restaurants, always sit at the bar instead of at a table, and "be like me: be approachable and always smile and make eye contact":
Ramona walked past the restaurant's kitchen, passed the food and licked her lips and yelled "smells good guys" at the chefs:
The three drunk, screaming bats pointed and chanted "I SEE A CUTE BOY" at men around the bar:
Then, all of the women descended upon a man who was roughly the age of Ramona's daughter:
Ramona and Sonja left Beautique and then TINSLEY STARTED STICKING HER OPEN MOUTH ON THE GUY (Surprise, he was 23 years old and she's 41), AND KISSING HIM WITH HER ALMOST NON-EXISTANT LIPS IT WAS FUCKING HORRENDOUS:
We met Bethenny's new boyfriend, Dennis, who joined her for a charity luncheon for the launch of BStrong for Dress For Success:
Tinsley went out on a date to a bowling alley with the fetus guy she picked up at the bar the night before, and when he ordered a drink he got carded but she did not:
Also, Tinsley opted to wear a pirate shirt which was basically the blouse from "The Puffy Shirt" episode of Seinfeld:
She then preceded to start tonguing his mouth yet again while he was eating food. The conversation was awful- Chad: let me finish my bite. Tinsley: NO! You can't finish your food. Chad: You're gonna end up with it in your mouth (giggles) Tinsley: Fine! (With her weird squinty eyes and her stupid fucking squeaky voice) It's like…you feed me like a bird…you know? Like a bird is like…they eat and then they feed…heehee (giggling annoyingly before sticking her tongue down his throat once more):
Ramona went out for drinks with a group of girlfriends, where she stood up at the table to bat her eyes at a group of men across the bar and swish her hair back and forth, trying to play coy before she asked her friend "are we circulating??" while she grinned from ear to ear like a psychotic:
Ramona said it was so nice to be out with single girlfriends because all of her other friends were in relationships like "Luann, who's with Tom, which I'm not really getting", and then the producers flashed back to a revolting clip of Tom with his small lizard eyes boring into Luann's breasts and groaning "Oh my gosh, A FEAST for my eyes":
It was basically a meeting Ramona had set up of people who had either dated Luann's fiance Tom (she somehow "befriended" Tom's ex, Missy between seasons) in the past or who wanted to talk shit about "dirt" they had gathered on him. She's pretty much a detcetive: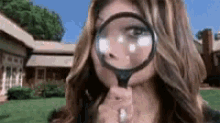 Dorinda held a charity auction event which was just a damn awkward mess with a freaky and random mismotch of homely and peculiar people at it.
Dorinda wore a fantastic pink sequin dress and she looked gorgeous: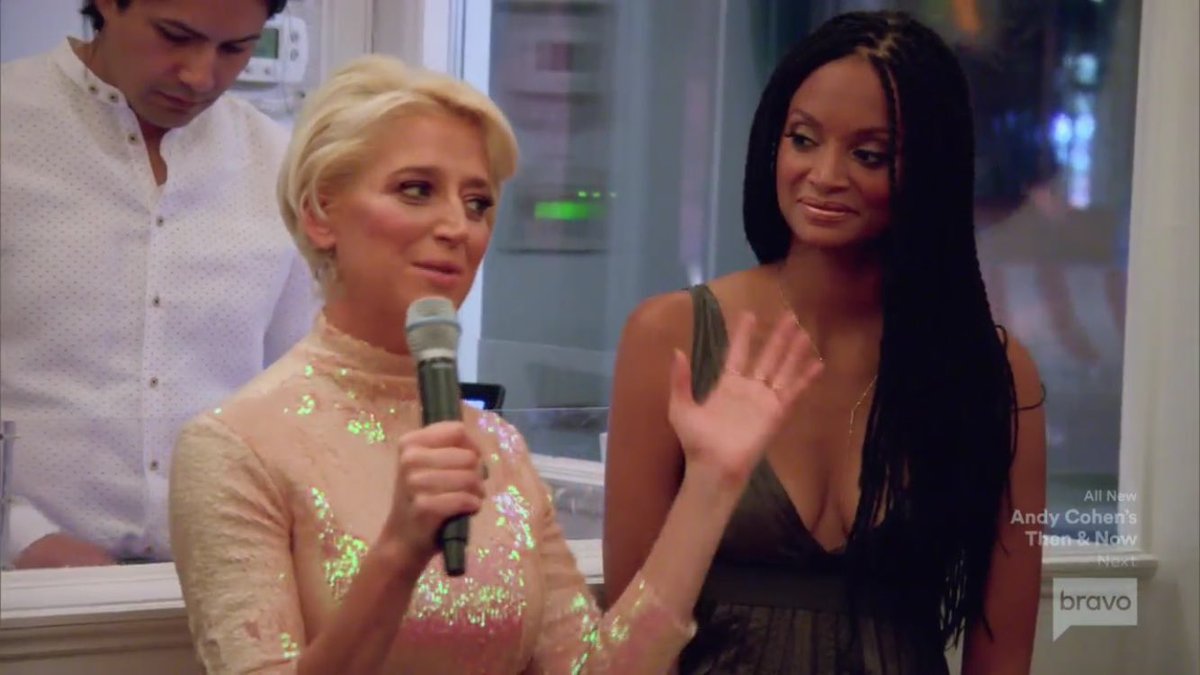 Luann donated the gift of having drinks with her as one of the items up for silent auction: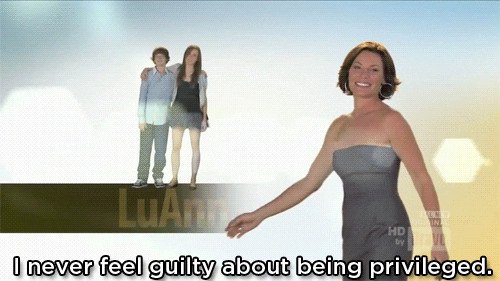 Amongst the crowd, a creepy, weird man in the distance gawked at Bethenny, his eyes staring ominously into her soul:
Tinsley and Sonja got into a weird argument because they took separate cars to the event, but Sonja said it was because she was "with her French lover" before she giggled loud and tossed her hair around: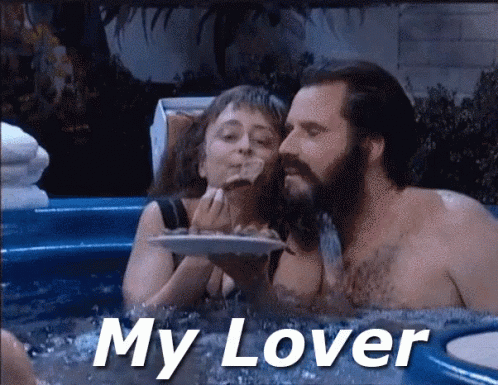 Then, Sonja set her eyes on a Russian man named Milos, but Ramona immediately swooped in to stake her claim.
A tacky woman named Barbara, who later sued Bravo for airing dialogue of her "without her consent", spent the entire evening talking shit about Luann and Tom D'Agastino and Tom's cheating to Carole, and the producers dubbed the dialogue of the entire conversation over shots of Tom and Luann kissing at the event: