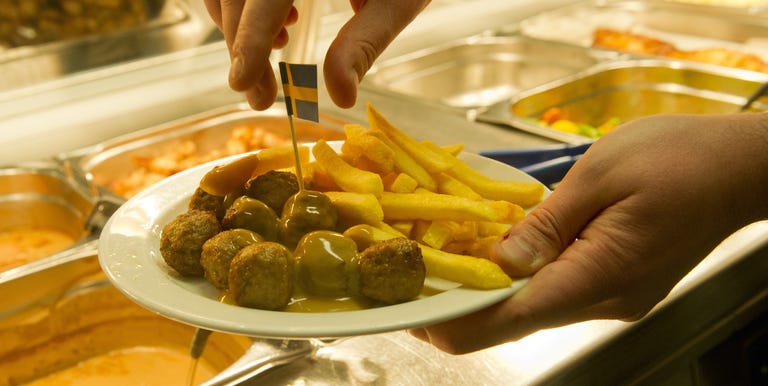 IKEA isn't only the go-to furniture store, it's also the place to be if you're craving Swedish meatballs. The furniture chain's food section is actually one of the most popular elements of the store, acquiring around $1.8 billion in sales for 2016 alone. So it only makes sense that the multinational group would consider opening a few stand-alone restaurants in the future.
"We've always called the meatballs 'the best sofa-seller,'" head of food operations Gerd Diewald told FC. "Because it's hard to do business with hungry customers. When you feed them, they stay longer, they can talk about their [potential] purchases, and they make a decision without leaving the store. That was the thinking right at the beginning."
According to Fast Company,  30% of the customers who eat at IKEA's in-store restaurants come to the stores just for the food. Considering such a statistic, as well as the success of their few pop-up restaurants so far, the company is enthusiastic about the expansion.
"The mere fact that we don't need so many square feet to do a café or a restaurant makes it interesting by itself," IKEA Food managing director Michael La Cour told Fast Company. "I firmly believe there is potential. I hope in a few years our customers will be saying, 'Ikea is a great place to eat—and, by the way, they also sell some furniture.'"
There's no word yet on when one of these restaurants might open but FC reports that if they do open, they'll start with "stand-alone cafés in city centers."
[via Fast Company]