This Isn't Funny: Comedian Turned Senator Al Franken Was Accused of Kissing and Groping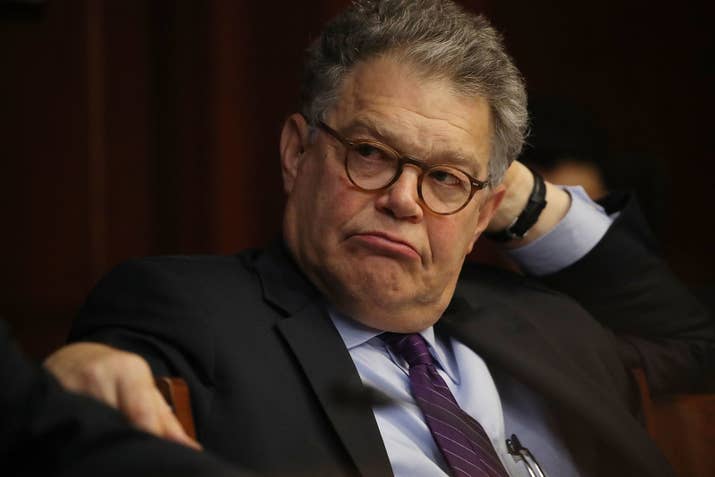 A morning news anchor from Los Angeles has just accused Senator Al Franken, a Minnesota Democrat, of harassment such as kissing and groping in 2006. The assault occurred while Franken was a comedian and entertaining the troops overseas.
Leeann Tweeden wrote that Franken added her into his script without asking her or receiving her input. "When I saw the script, Franken had written a moment when his character comes at me for a 'kiss'. I suspected what he was after, but I figured I could turn my head at the last minute, or put my hand over his mouth, to get more laughs from the crowd," Tweeden wrote.
Franken insisted, repeatedly, to rehearse the scene, and made Tweeden very uncomfortable. "I said 'OK' so he would stop badgering me," Tweeden wrote. "We did the line leading up to the kiss and then he came at me, put his hand on the back of my head, mashed his lips against mine and aggressively stuck his tongue in my mouth."
"I immediately pushed him away with both of my hands against his chest and told him if he ever did that to me again I wouldn't be so nice about it the next time."
Upon return to the U.S., Tweeden was looking at a CD from photos on the trip. She was shocked, to say the least, to see a photo of Franken groping her in her sleep, while smiling and looking at the camera.
I've decided it's time to tell my story. #MeToohttps://t.co/TqTgfvzkZg

— Leeann Tweeden (@LeeannTweeden) November 16, 2017
Naturally, Franken's account of the rehearsal is different than Tweeden's, but he does regret taking the photo. He said, "I certainly don't remember the rehearsal for the skit in the same way, but I send my sincerest apologies to Leeann. As to the photo, it was clearly intended to be funny but wasn't. I shouldn't have done it."
Franken is currently the first, but definitely not the only, sitting lawmaker to be involved in the slew of allegations post-Weinstein.
After hearing California Democratic Representative Jackie Speier talk about her experience of sexual harassment, Tweeden decided she also had to tell her story. "At that moment, I thought to myself, Al Franken did that exact same thing to me," Tweeden wrote. "I had locked up those memories of helplessness and violation for a long time, but they all came rushing back to me and my hands clinched into fists like it was yesterday."
"Senator Franken, you wrote the script. But there's nothing funny about sexual assault."
In 2008, Franken's Senate Campaign was damaged after a joke he made in Saturday Night Live's writer's room meeting got exposed. "I give the pills to Lesley Stahl. Then when Leslie is passed out, I take her to the closet and rape her," Franken said, according to a 1995 article in New York Magazine. "Or 'That's why you never see Lesley until February. Or, 'When she passes out. I put her in various positions and take pictures of her.'"
Franken wrote in his 2017 book that he "wasn't sorry" for the joke about Stahl, and said he was "just doing" his job.
[via Buzzfeed]