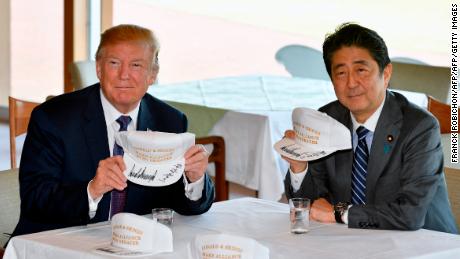 Trump is no stranger to junk food. He has shared posts of him enjoying McDonald's and even a taco bowl in celebration of Cinco de Mayo. And even overseas, Trump is no stranger to greasy food.
In Japan, Prime Minister Shinzo Abe tweeted a pic of him having lunch with Trump saying "We sincerely welcome President Trump on his visit to Japan! We're getting down to business right away over hamburgers."
トランプ大統領の来日を、心より歓迎します!今から、さっそくハンバーガーでビジネスランチです。@realDonaldTrump pic.twitter.com/9RiaibqNLO

— 安倍晋三 (@AbeShinzo) November 5, 2017
According to Japanese media, a famous Tokyo chain, Munch's Burger Shack, provided the food. And apparently, all of their meat is made of U.S. Angus beef.
trump's burger pic.twitter.com/ACmg3qiIPD

— Jason Packman (@XinJeisan) November 6, 2017
Munch's is legit the best burger place in Tokyo & probably the whole world. Finally I can admit Trump has good taste in *something* https://t.co/eoKN6mca31

— Nicole Radziwill (@nicoleradziwill) November 6, 2017
they brought in a burger — or really, the owner chef — from munch's burger shack in minato. cook well done.
trump's verdict — very good. pic.twitter.com/5oxai6a1oY

— Jason Packman (@XinJeisan) November 6, 2017
Twitter had fun criticizing Trump's lunch:
Imagine going all the way to Japan and eating a hamburger at a country club pic.twitter.com/thYetsb5K0

— Josh Billinson (@jbillinson) November 5, 2017
Inordinately angry that Trump ate a burger in Japan and not ramen 🍜 or another delicious noodle 🍲 dish. What a waste. pic.twitter.com/zTvLepkce8

— Marjie Cunningham (@missmarjiec) November 6, 2017
Trump is in Japan. Japan has has some of the most delicious and varied cuisine. What does he eat? A hamburger. 😐

— cadavril (@cadavril) November 5, 2017
Hamburger lunch, steak dinner, 9 holes of golf. Trump's soaking up the Japanese culture, great diplomatic representative. https://t.co/biPrOzRWt0

— Bless Every One (@BlessEvery1) November 5, 2017
When Obama ate with Abe, he had sushi.
When Trump ate with Abe, he had a hamburger.

Very telling of their approaches to diplomacy. https://t.co/LwTo1nndAA

— James Riney (@james_riney) November 5, 2017
During Trump's last major trip to Japan, in 1990, he said "I'm not going to eat any fucking raw fish," and had a McDonalds hamburger instead https://t.co/9KU23HFHqK

— Isaac Stone Fish (@isaacstonefish) November 5, 2017
I would pay money to see Trump try to use chopsticks with his tiny hand.
[via Mashable]