Kanye West Has a Kim Kardashian Crying Face Air Freshener in His Car and It's Kind of Perfect
If this isn't love I don't know what is.
So over the weekend Kanye West and Kim Kardashian went to Jay Z and Beyoncé's home in Los Angeles (they're friends again?) and of course, a million paparazzi camera were waiting for them outside.
Rather than asking Kanye why he was at Jay Z's house following the insane rant he went on, shitting all over the power couple, the paps caught a very important picture instead. A picture of Kanye West's air freshener.
Kanye was getting into his car and suddenly, we all saw it, a "Kimoji" air freshener hanging from the rearview mirror.
Yes, it's THAT ugly crying face and it's perfect.
Dare I say, this might even be couple goals.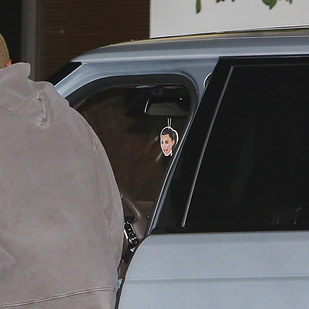 [via Buzzfeed]