An independent clothing designer is accusing Khloé Kardashian of stealing her work. After Khloé posted a tweet showing off her latest Good American looks on Friday, designer Destiney Bleu, re-tweeted Khloé, along with the caption, "When someone buys 1 of everything on your site, has you make them custom @dbleudazzled work, never posts it or wears it, then copies it."
I always have the BEST time on set with my #GOODSQUAD! How many beautiful, kickass ladies can you spot in my @goodamerican campaign video? ❤ pic.twitter.com/JlkXFgPDuN

— Khloé (@khloekardashian) June 2, 2017
https://twitter.com/destineybleu/status/870733561682210820?ref_src=twsrc%5Etfw&ref_url=http%3A%2F%2Fwww.cosmopolitan.com%2Fentertainment%2Fcelebs%2Fa9971401%2Fkhloe-kardashian-destiny-bleu-bedazzled-clothing-good-american%2F
Bleu is the owner of dbleudazzled, a clothing company specializing in custom crystallized hosiery, lingerie and performance wear. She provided these image comparing the similar designs,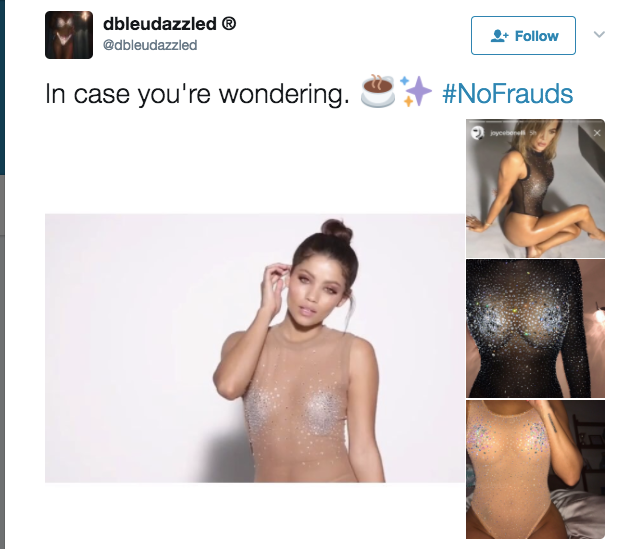 .@destineybleu's @dbleudazzled line in the 1st 3 pics vs. Khloe's line in the last pic. Respect the source & support black owned businesses. pic.twitter.com/7o9Ryitk6c

— Matthew A. Cherry (@MatthewACherry) June 2, 2017
In response to many Tweets accusing her of using the Kardashians as a way to garner more attention and sales, Destiney explains that her business is successful as is thus she's not looking for a "come up". She also says that Khloé ordered clothing in December, including a custom Cleveland Cavaliers jersey, and she thought that the reality star was waiting to wear it until the NBA Finals. "Nope. It was all being sent away to copy," she tweeted.
I had stylists friends working on the Good American set and they told me they were shook when they saw her black x nude @dbleudazzled copies

— destiney bleu (@destineybleu) June 2, 2017
I know its prolly unprofessional of me to spill the tea but I've had it with these non creative millionaires stealing from indie designers.

— destiney bleu (@destineybleu) June 2, 2017
Dazzle is my livelihood. I pay 3 rents, 5 employees & handmake everything. I did it w/no investment or guidance, I'll always fight for this

— destiney bleu (@destineybleu) June 2, 2017
According to Cosmopolitan, Bleu sent Khloé's assistant an email calling her out on the similar designs but did not hear back. It's also worth noting that this isn't the first time the sisters have faced such accusations.
Good American released a statement to Cosmopolitan on Saturday saying, "Under no circumstances did Good American or Khloe Kardashian infringe on another brand's intellectual property," they wrote. They added that they are "going through the proper legal channels to handle the situation."
[via Cosmopolitan]