Like Selena, is The Weeknd Rebounding with His Ex, Bella Hadid?
Selena Gomez and The Weeknd went through a whirlwind towards the end of their relationship. A few months ago, Gomez reported that she was so happy in the relationship, and announced that they had just moved in together.
Then, Gomez was spotted "hanging out" with her ex, Justin Bieber. Apparently, The Weeknd thought it was more than just friends, and he and Gomez broke up.
However, The Weeknd is following in Gomez's footsteps, because a picture of him with his ex-girlfriend, Bella Hadid.
WAIT, WHAT??? https://t.co/mjA6yvcZaP

— ELLE Magazine (US) (@ELLEmagazine) November 15, 2017
The Weeknd was seen sprinting, ducking his head, from Hadid's NYC apartment. According to Elle, the rapper spent "several hours" there.
PICTURED: The Weeknd sprints out of ex Bella Hadid's NYC apartment sparking rumors they may be back together https://t.co/DSRsuXjUwl

— Daily Mail Celebrity (@DailyMailCeleb) November 15, 2017
https://twitter.com/DeborahPraha/status/930878007476092928
The Weeknd and Hadid were dating for just a little over a year, and broke up in November of 2016. Fans of the duo couldn't handle the timing of the breakup. It happened right before the Victoria's Secret Fashion Show, where Hadid strutted down the runway, right past The Weeknd who was singing.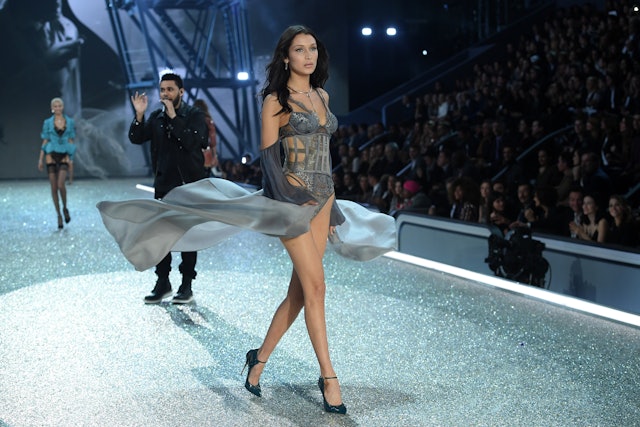 During the time, Hadid told Teen Vogue, "When I love somebody, I love them with my whole heart. It was my first breakup—or second, next to the horse—and so public… As an outsider, you might think I handled it so well, but it's always in your heart, and you always feel it very heavily."
But it seems like The Weeknd, Bieber, and Gomez, can't keep away from each other! November 19 is the American Music Awards, where Bieber and The Weeknd are both nominated for awards. Gomez is also going to be at the show to perform her hit, "Wolves."
DRAMAAAAAA.
[via Elite Daily]