Madonna Called Whitney Houston "Horribly Mediocre" in New-Found Letter and Fans Are Dragging Her Because She Deserves It
Attention ladies, gather 'round, 90s tea. Let's get into it.
You've heard of Madonna, Queen of Pop.
You've also heard of Whitney Houston, the iconic and legendary voice of a generation.
Both ladies were major forces and dominated charts in the 90s and because the show biz is what it is the divas had a sort of ongoing rivalry.
There's even this video of Madge admitting she was having nightmares, and they were being caused by none other than Whitney herself.  I mean who wouldn't be intimidated by THAT voice.
https://twitter.com/Mndspeak88/status/885509183310790656
A letter is being auctioned off allegedly written by Madonna to actor John Enos. In the letter the 'Vogue' singer allegedly calls Houston "horribly mediocre," and adds she'd rather die than be her. GIRL, those are fighting words, but also HOW DARE YOU?
Obviously people are feelings some type of way regarding the letter and Madonna is being dragged, I wish we could step in and protect her but, to be quite honest: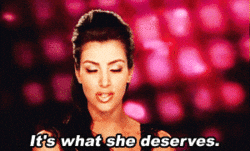 Houston fans are mad and feel victimized by this letter.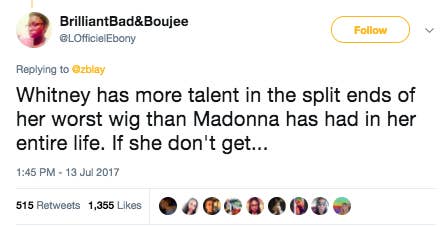 Let's be real here and admit that Madonna was out of line, describing Whitney Houston as "mediocre" is 10/10 a sin.
There's no debate here, just evidence of the power of Whitney Houston. Watch below and be reminded sweetie.
[Via BuzzFeed]