Looks like Ronald McDonald isn't a fan of Donald Trump.
This morning, the officially McDonald's Twitter account just ripped our current President a new asshole by tweeting "@realDonaldTrump You are actually a disgusting excuse of a President and we would love to have @BarackObama back, also you have tiny hands." To add an extra amount of shade, they made it their pinned tweet, basically metaphorically hammering the last nail into Donald Trump's coffin.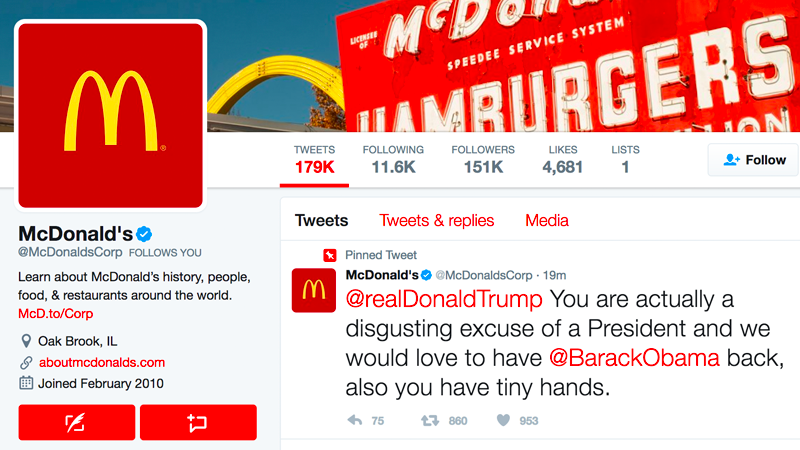 McDonald's has since deleted the tweet, and issued this statement, claiming their account was hacked.
Twitter notified us that our account was compromised. We deleted the tweet, secured our account and are now investigating this.

— McDonald's (@McDonaldsCorp) March 16, 2017
But, since the internet is forever, people are having a field day sharing the tweet across social media.
Apparently, @McDonalds is NOT "loving it". pic.twitter.com/jxBjyX4gvt

— Ian McKelvey (@ian_mckelvey) March 16, 2017
Preserving this now, before a certain fast-food chain is outlawed by executive order pic.twitter.com/rwBJ0jW5F7

— Dave Itzkoff (@ditzkoff) March 16, 2017
Ouch. Rough day for @McDonalds stock price… pic.twitter.com/oZjfyFcAEx

— Brianna Wu (@Spacekatgal) March 16, 2017
And, of course, people are calling for a McDonald's boycott…
If someone @McDonaldsCorp tweeted hateful remark re: @POTUS and not fired & apology given, then hope stock goes down as badly as the burgers

— Gov. Mike Huckabee (@GovMikeHuckabee) March 16, 2017
https://twitter.com/Truth_Bombers/status/842392053787070464
Too bad he's already on record supporting the fast food chain.
Do you really think they're account was hacked? My moneys on a rogue, pissed off intern, or maybe…
NSA agents have a suspect for the author of the McDonald's tweet pic.twitter.com/kKBL5pISfJ

— Dave Itzkoff (@ditzkoff) March 16, 2017
[Via Gizmodo]