McDonald's has Sent 'Rick and Morty' Fans on an Emotional Szechuan Sauce Rollercoaster
"That's my series arc, Morty! If it takes nine seasons!"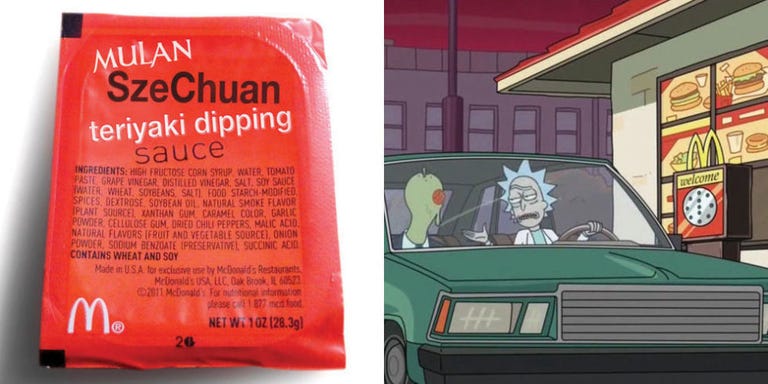 So this past season of Rick and Morty got McDonald's to bring back Szechuan dipping sauce. In the first episode of season 3, there is a joke involving the sauce, which got fans talking and reminiscing about the tangy, sticky sauce which was originally released as a promo for Mulan.
Shortly after the season ended, McDonald's announced it was going to sell the sauce for ONE day only. That day was this past weekend, October 7. However, the supply was extremely limited…
Rick and Morty fans lined up pre-sale style, but some were disappointed and sent away empty-handed. This stirred major uproar and fans were not happy with the fast-food chain. Twitter erupted with #SzechuanGate and #McFail.
https://twitter.com/ianjsikes/status/916809543618719744
Cops are at Wellington McDonalds where tons of angry people lined up for hrs for Rick and Morty Szechuan sauce only to learn they had none pic.twitter.com/3T272osid4

— Lulu Ramadan (@luluramadan) October 7, 2017
McDonald's released an insanely long statement following the angry response:
Yesterday, we were truly humbled by the amazing curiosity, passion and energy this community showed to welcome back Szechuan Sauce—even if just for one day. Thank you, a million times over. Between the costumes, the memes and the cross-state travel, you, the fans, showed us what you got. And our super-limited batch, though well-intentioned, clearly wasn't near enough to meet that demand. "Not cool." We agree. So we're gonna make this right. In the last 24 hours, we've worked to open any portal necessary. And it worked. Szechuan Sauce is coming back once again this winter. And instead of being one-day-only and limited to select restaurants, we're bringing more—a lot more—so that any fan who's willing to do whatever it takes for Szechuan Sauce will only have to ask for it at a nearby McDonald's. We want to make this right. You're some of the best fans in this, or any, dimension…and we plan to deliver on that promise as soon as possible. Stay tuned. -Your friends at Mcdonald's
They have announced a winter release for the sauce:
You spoke. We've listened. Lots more #SzechuanSauce and locations. Details soon. And that's the wayyy the news goes! pic.twitter.com/ooIrbZBsOw

— McDonald's (@McDonalds) October 8, 2017
Hopefully it won't take McDonald's nine seasons.
[via Cosmopolitan]