Fashion is constantly used to make a statement. Take for instance the F/W 2017 collection for fashion house Moschino, where designer Jeremy Scott redesigned trash into runway pieces.
First Lady Melania Trump is no stranger to making a statement with bold fashion pieces. While visiting a hurricane struck Houston, Trump wore a pair of stilettos. Her fashion choices have even been compared to Jackie Onassis, especially during Trump's inauguration.
Now, Trump has the spotlight on her style once again, this time during the presidential visit to China. Trump wore a Gucci dress, an Italian fashion house, that was apparently supposed to be a nod towards her hosts. However, the dress might not have been the most appropriate choice.
The black dress was hip-hugging and adorned with pink fur cuffs and an elaborate embroidering of birds and flowers. Designed in February of 2016, the Post has described it as "a gown with a Chinese motif and silhouette"… maybe not so great for a meeting in China.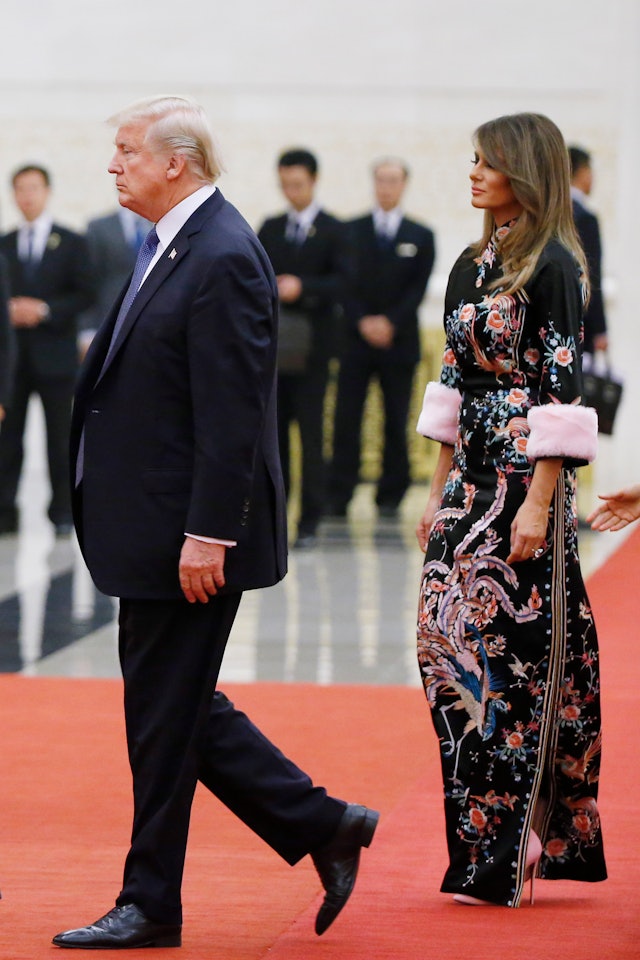 This past August, Sable Long, the digital beauty editor for Allure mentioned the resurgence of appropriation of "culturally Asian garments" such as kimonos, cheongsams, and mandarin collars. To Yong, the traditional clothing has become "costume-like" and believes that "purporting the image of such [appropriation] is alienating and disrespectful to the people whose culture you are taking from."
Of course, Trump was not thinking maliciously in her decision to wear the dress, but in comparison to how Michelle Obama dressed under similar circumstances…
During a 2016 state dinner with Chinese president Xi Jinping and wife Peng Liyuan, former First Lady Michelle Obama wore a classic, floor length gown. The simple, but elegant dress was designed by Vera Wang, who is of Chinese descent.
It is such a privilege, as an American of Chinese heritage, to have dressed First Lady @MichelleObama for this st… http://t.co/PwJiX3d17s

— Vera Wang (@VeraWangGang) September 25, 2015
Wang's full comment reads: "It is such a privilege, as an American of Chinese heritage, to have dressed first lady Michelle Obama for this state dinner honoring President Xi Jinping and First Lady Peng Liyuan, of the People's Republic of China."
Not only did Obama wear a dress that avoided appropriating a culture, she apparently learned from a previous mistake where she had worn a dress by British designer Alexander McQueen to a visit to China in 2011.
Trump's dress decision is not as bad as her hubby's conniving rhetoric towards the Chinese government, but in a time where the White House has a very white-male administration and a fear of other cultures, this was definitely a faux pas that could have been avoided.
[via Elite Daily]