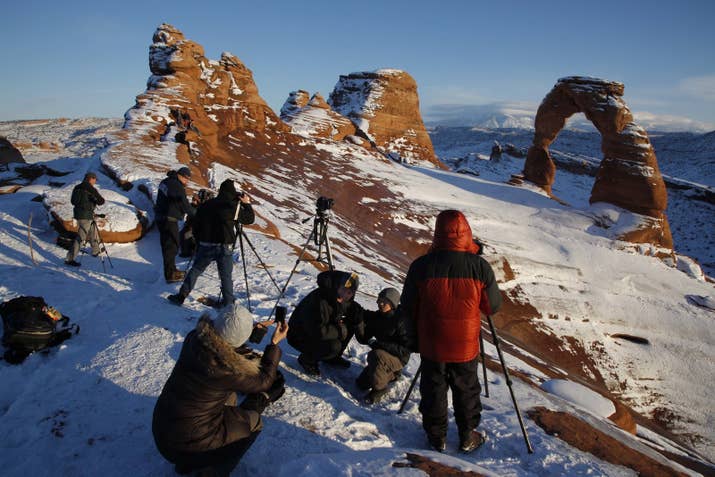 With National Parks and destinations like the Grand Canyon not receiving the revenue acceptable for the National Parks Service, admission fees are going to rise to up to $70.
For "peak seasons" in at least 17 parks, cars will now have to pay $70, $50 for motorcyclists, and people on bikes and on foot have to dish out $30.
Most of the parks are in the west, such as Yosemite, Zion, Grand Canyon, Yellowstone, and Grand Teton. These parks are seeing a significant spike in prices, as right now vehicles are charged $30, which is the same as the proposed price for "walk-ins." Canyonlands charges $25 per car and $10 if someone is on foot.
The Park Service recently raised the price for the "lifetime senior pass" from $10 to $80.
The parks agency says they desperately need the money, and are estimating that the new prices will bring in about $70 million of revenue per year. The money will be used for "improvements to the aging infrastructure of national parks." The Park Service said, "This includes roads, bridges, campgrounds, waterlines, bathrooms, and other visitor services."
Aging infrastructure of the parks has been a huge issue for a while. In 2016, a report indicated a total of $11.3 billion in "deferred maintenance". California parks alone totaled over $7 billion of the maintenance.
However, many citizens and lawmakers believe the increased prices will hurt the parks even more because sales will decrease.
Hiking the fees for us to enjoy #NationalParks while @SecretaryZinke flies around on private jets with taxpayer $$$ https://t.co/5sfYQxGNQ6

— Sen. Maria Cantwell (@SenatorCantwell) October 24, 2017
Does Trump not want people to visit National Parks? These fee hikes are enormous and 30 days isn't enough time for everyone to comment. Why? https://t.co/aeta4vV2Vf

— Rep. Don Beyer (@RepDonBeyer) October 24, 2017
What an absurd proposal. Making national parks even more inaccessible to people of modest means is not how you fill a maintenance backlog. https://t.co/jh0qr7hKdV

— Jesse Piedfort (@jessepiedfort) October 24, 2017
This is a terrible proposal – National Parks should be accessible to all Americans, not priced in-kind with free-market mouse-themed parks https://t.co/PEwd8Ds1hQ

— Devin Boyer (@wxdevin) October 24, 2017
Access to National Parks is the right of all Americans, not just ppl who can afford the entry fee. This is obscene. https://t.co/yokGq9ZtJk

— Dante A. Ciampaglia (@daciampaglia) October 25, 2017
If the proposal goes through, the price hike is expected go into effect next year.
But good thing the defense department is in the process of building a $100 million drone base.
[via Buzzfeed]