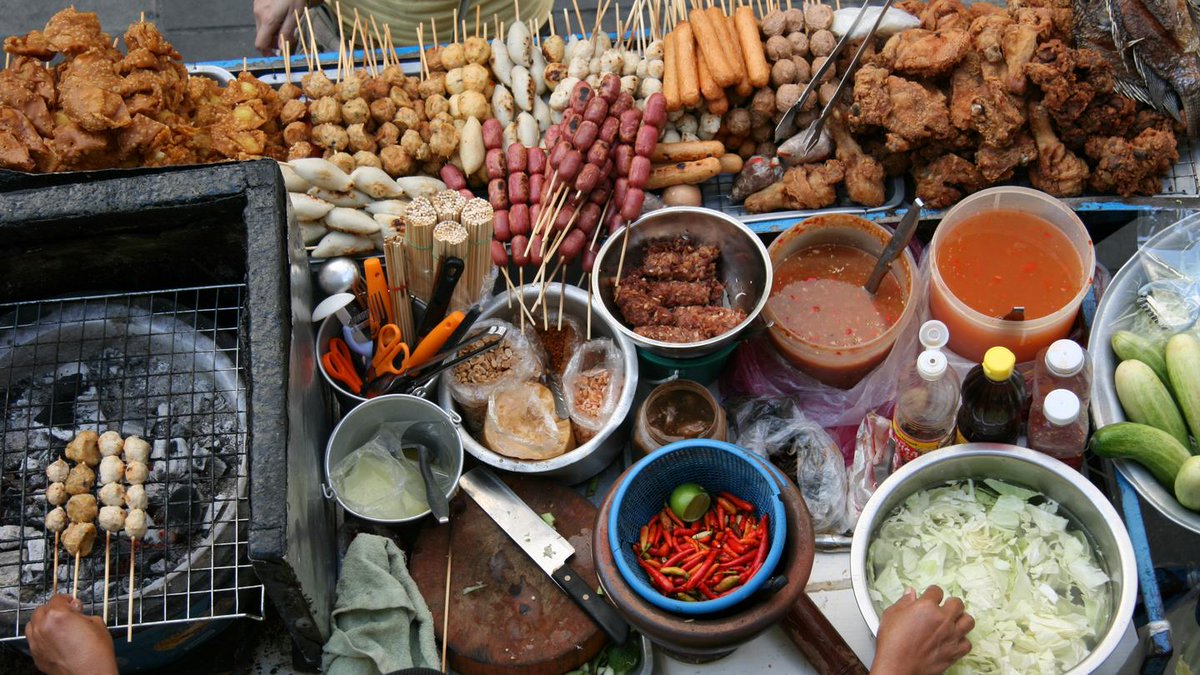 Bangkok is famous for its street food, not only is it affordable—but it's delicious. Yet authorities in Bangkok have officially banned street food vendors from the capital's major roads in the interests of "order and hygiene," resulting in some serious social media outrage. Thousands of vendors are expected to disappear by the end of the year, according to the Bangkok Metropolitan Administration (BMA).
This would be a major blow to Bangkok residents and tourists alike if all street food stalls in Bangkok were banned https://t.co/r9GvVq5Vsu

— Florian Reinold (@FlorianReinold) April 18, 2017
Question: Why only ban it in Bangkok? Is street food in Chiang Mai or Hat Yai safer than in the capital? Sec44 for nationwide ban? #sarcasm https://t.co/r9GvVq5Vsu

— Florian Reinold (@FlorianReinold) April 18, 2017
The only battles the BMA seem to win are the ones against common sense – no street food in Khaosan and Yaowarat?

— Shellman (@NeilShelley) April 18, 2017
Chawadee Nualkhair, a Bangkok-based street food blogger, said authorities' previous attempts to remove stalls had failed, reports The Guardian. But it seems authorities are more serious this time. "There will be no let-up in this operation. Every street vendor will have to move out," Wanlop Suwandee, chief adviser to Bangkok's governor said in comments reported by the local Nation news portal.
Woke up to this sad news on front page of @nationnews. Guess I'll b eating street food every day while I can. https://t.co/Lx5xTNJHuL

— Matt Hays (@mhays17) April 18, 2017
I haven't seen anyone who thinks it's a good idea to remove all the street food. It's just going to put even more money into CPs pockets.

— Ally (@ohmyal) April 18, 2017
If this happens (and I'm very doubtful), it'll be the final nail in the coffin for me here. Street food is the #1 reason I'm here. https://t.co/k11geJx4nt

— Chris Wotton (@chriswotton) April 18, 2017
I am totally for removing street food from heavy pedestrian areas, against a total ban on it.

Can't กทม designate areas for street food?

— Raj Palsingh (@HipsterYogi) April 18, 2017
Although there has been some confusion about how exactly the policy will be implemented. The area's district chief, Boontham Huiprasert, said push-cart vendors who could move around would still be tolerated but larger semi-permanent stalls with seating would have to be removed."Or if they can find a place to set up their shop without obstructing the sidewalk, such as behind the railing of the Thong Lor police station or some other private building, that would be OK too," he said.
https://twitter.com/bkksomchai/status/854267040844009472
Choose food stalls, choose very friendly ladies in bars, choose paying 200bht for that minor traffic violation, choose Bangkok.

— Somchai the Dog (@bkksomchai) April 18, 2017
[via Twitter / The Guardian]