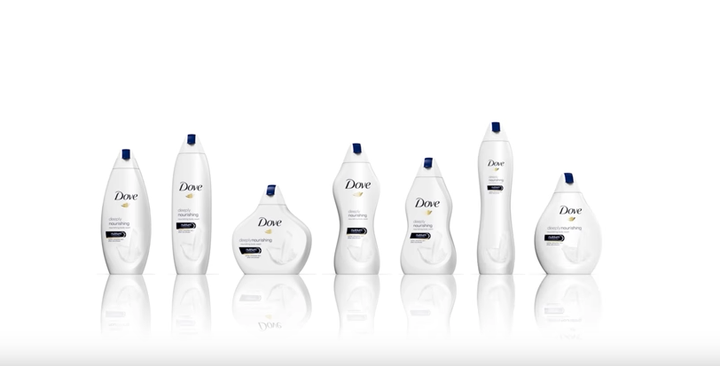 People aren't loving Dove's most recent attempt to remind the world that they are a body-positive brand. The company is receiving some backlash for a campaign recently released out of the U.K. that features a "limited edition" collection of body wash bottles meant to represent different body shapes. There are seven shapes, pictured above.
"Perhaps Dove forgot that the very point of inclusion is to speak to women of all different shapes and sizes in the same way, and not based on what their bodies look like?," points out the Huffington Post. "The setup is right—a product that embodies its message. But the problem is that the result is incoherent and contradictory. The bottles negate rather than support the advertiser's associative claims," explains The Atlantic, before asking the reader to imagine certain scenarios:
A pear-shaped woman has run out of body wash. She visits the local drug store, where she finds a display of Dove Real Beauty Bottles. To her chagrin, now she must choose between pear- and hourglass-shaped soap. She must also present this proxy for a body—the one she has? the one she wishes she did?—to a cashier to handle and perhaps to judge. What otherwise would have been a body-image-free trip to the store becomes a trip that highlights body-image.
Of course, the media isn't the only one to highlight Dove's misguided attempt at an inclusive campaign. Twitter is having a field day:
"Finally, a @Dove soap bottle that won't make me feel self conscious about my body!" pic.twitter.com/B0tnyUXjp1

— Alex Wright (@alwrightthen) May 8, 2017
is there a "has a good personality" bottle shape?

— Mary Murphy (@FastFM) May 8, 2017
These are only realistic body types for The Muses from Hercules… pic.twitter.com/xTEC1vMmB1

— Omri (@Omri_Rawrlan) May 8, 2017
So if CVS is out of "skinny bitch" bottles am I not going to be able to get clean? Not sure how this works.

— Jodi Beggs (@jodiecongirl) May 8, 2017
.@dove I have arms please advise https://t.co/AycSUjLi0v

— rachel handler (@rachel_handler) May 8, 2017
thanks Dove but I already have a body wash that matches my natural curves 🙂 pic.twitter.com/IIkKAn0LjQ

— Tim Federle (@TimFederle) May 8, 2017
.@Dove matches its new body wash bottles to your body type pic.twitter.com/zzxy21DYuH

— weak belwas (@vrunt) May 8, 2017
I'd buy the Dove faux-body-posi crap more if they produced any products for dealing with chub rub or making body hair shiny and soft.

— Another Angry Woman (@stavvers) May 8, 2017
At this point, it's like Dove following you around the store saying "Other people call you fat. Not me! Other people call you fat. Not me…" https://t.co/tbYFzEoLjs

— Sandra Newman (@sannewman) May 8, 2017
[via Twitter Moments]