People in England Aren't Impressed By The New John Lewis Christmas Ad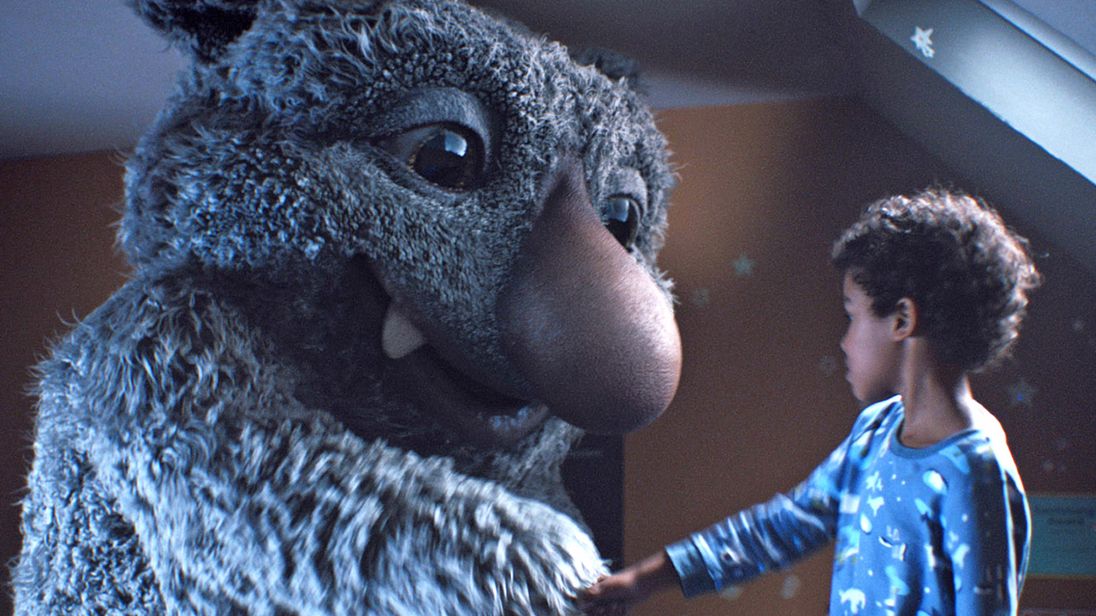 The holiday season is here, and British department store John Lewis has already dropped their Christmas ad. The ad is made by Michel Gondry, director of Eternal Sunshine of the Spotless Mind. In the ad a boy befriends a monster named Moz, who lives under his bed.
But many Brits aren't too crazy about the ad, or the hairy blue monster.
It is really stressing me out that the John Lewis Christmas #MoztheMonster has a bouncing hairless purply fleshy testicle for a nose pic.twitter.com/NhzEX5H87G

— Felicity Morse (@FelicityMorse) November 10, 2017
So the #JohnLewis Christmas advert? Anyone else thinking 'we've got a 23-19' the whole way through? #MozTheMonster pic.twitter.com/hSzHbjMon9

— Aoife (@magpie_cc) November 10, 2017
Shocking revelations about Morrissey in today's papers pic.twitter.com/J3NkV0vEzA

— David Lewis (@davidclewis) November 10, 2017
Moz (climbing out from under the bed): "I've got you a present"
Cute kid: "Oh wow!"
Moz: "I've replaced the turkey with a nut roast"#MozTheMonster pic.twitter.com/ZjXTGTQe4Q

— Rick (@rickburin) November 10, 2017
Just watched the John Lewis ad but have to say it wasn't my favourite! I'm not sure I get the storyline?! 🙈😂 I feel like it lacked emotion which is one of the many reasons I love the ads they create! What do you think?

— Zoe Sugg (@ZoeSugg) November 10, 2017
What do you guys think of the John Lewis advert? I felt it was cute but was really strong on gender stereotyping? Is that just me? Meh!

— Sammi Maria (@samanthamaria) November 10, 2017
The John Lewis Christmas advert made me feel nothing….i am dead inside! pic.twitter.com/pFcv645F0C

— Cupcakes and Anxiety (@CrazyCakeLadyK) November 10, 2017
Good morning to everyone except those who made the new John Lewis Christmas advert

— Shafeeq (@Y2SHAF) November 10, 2017
Some people even shared what their favorite previous John Lewis ads were, comparing them to the new one.
So I see that the new John Lewis Xmas ad is out.
It's ok, but nothing will beat the sheer magnificence of 2015. pic.twitter.com/gj0Ykxk0bS

— Arsène Parçelie (@Arsene_Parcelie) November 10, 2017
Sorry #MozTheMonster but Monty the penguin will always be the most adorable John Lewis Christmas ad character. #JohnLewis. pic.twitter.com/oqqB2FOiFP

— Jamie (@jmehough) November 10, 2017
disappointed with the john lewis christmas advert tbh👎🏼 i think the bear & the hare will always be my favourite🐻🐰❤️

— Sophie Jones🧡 (@sophsjonesy) November 10, 2017
But overall people just felt as though their expectations weren't met this holiday season.
Me: CANT WAIT FOR THE JOHN LEWIS CHRISTMAS AD, LETS HOPE MY EXPECTATIONS ARENT TOO HIGH AND ITS MASSIVELY UNDERWHELMING

John Lewis: HERE IT IS, #MozTheMonster HAPPY CHRISTMAS!!

Me: pic.twitter.com/1BX5vqmTqf

— Jake Farrow-Moss (@JustScruff) November 10, 2017
But there are some willing to cut John Lewis some slack.
Spare a thought for @johnlewis from Virginia who will soon be waking up to thousands of tweets about monsters, night lights and insomnia.#MozTheMonster

— George Mahood (@georgemahood) November 10, 2017
And so the annual test begins for the most patient man on Twitter, someone who embodies the true meaning of Christmas, @johnlewis

— Jesus Tweets You (@JesusTweetsYou) November 10, 2017
So not festive!
[via Mashable]