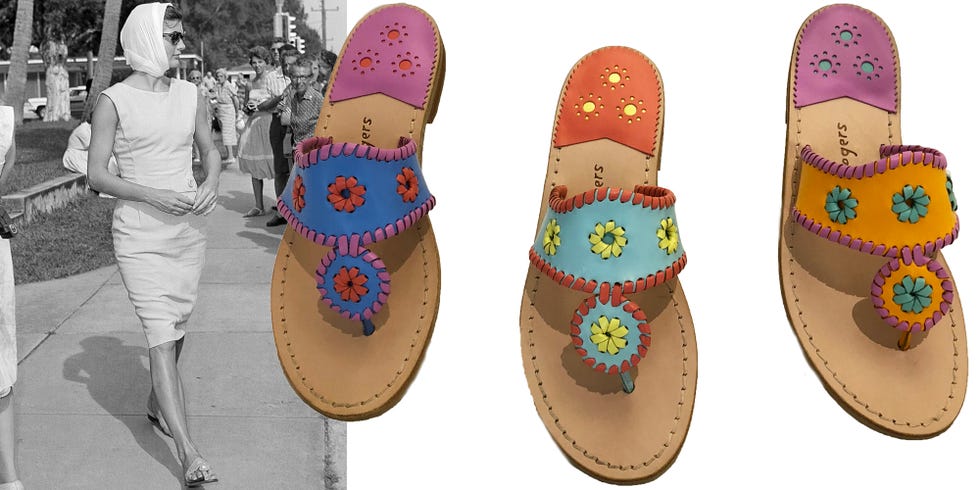 If you went to a preppy college like I did, you're probably familiar with Jackie Kennedy's famous shoe brand, Jack Rogers.
While she was well-known for her glamorous evening wear and Chanel suits, the former First Lady's lasting impact on the fashion world comes in the form of a flat, leather sandal perfect for wandering around the streets of Italy or, apparently, tailgating for a football game. Probably not exactly what she had in mind, but I digress.
Kennedy fell in love with this sandal style on a trip to Capri and had a cobbler in Palm Beach, Florida create several copycat pairs upon her return. The sandals have lasted the test of time; over 50 years later and the iconic style is still the brand's main product.
This year will be a big one for the Jack Rogers brand: they are launching a limited-edition capsule collection in 2018. On the 15th of every month, three new designs will launch for a total of 36 different looks. The sandals will be made in limited quantities and hand-numbered for an extra-exclusive feel.
Bridget Bali, Director of Merchandising at Jack Rogers, said of the collection: "Our Collector's Edition Jacks capsule is a celebration of the rich history of the brand made famous by Jackie O over 50 years ago. In designing the hand numbered collection, we drew inspiration from vintage Jacks and referenced the archives to curate this truly unique collection."
You better save up: each unique design, from colorful to metallic, retails for $118. Hey, it's less than a trip to Europe!
[via Harper's Bazaar]