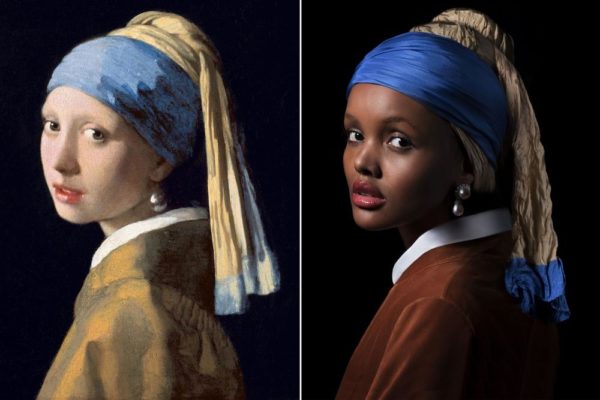 For a Harper's Bazaar photoshoot, three models recreated iconic paintings from several artists such as da Vinci, Vermeer, and Botticelli.
Winnie Harlow, Candice Huffine, and Halima Aden were captured by photographer Pari Duvoric. The point of the shoot was to transform models who have "redefined the runway" to be the "trailblazers" for the photo project.
Winnie Harlow is a model who has come onto the scene in a unique way while breaking stigmas. She has vitiligo, a skin condition characterized by sensitive skin pigment that lightens when affected by the sun. She compared her feelings of being judged by strangers to those of Mona Lisa's. "People come up to me all the time, like, 'Oh, you know there's a treatment, right?' But why would I want to be any other way?" Harlow said.
Candice Huffin also broke stigmas as a plus-sized model. As an "ode to female curves," Botticelli's The Birth of Venus was an interest to Huffin to recreate. "When I saw The Birth of Venus, I was like, 'Oh, hey, girl,'" said Huffine. "I didn't know at the time why I was seeking her out, but maybe I was looking for someone I felt a connection to."
Halima Aden is a Somali-American model. She also made waves as a model when she walked in New York Fashion Week as the first hijabi model. Aden was selected to recreate Girl with a Pearl Earring by Johannes Vermeer. The painting was perfect for Aden, who has her ears pierced but never showed them off. "It was just for me," she said.
Harper's Bazaar US will release the full story in their November issue.
[via Mashable]