Relive the Past with 'Golden Girls' Themed Hot Sauce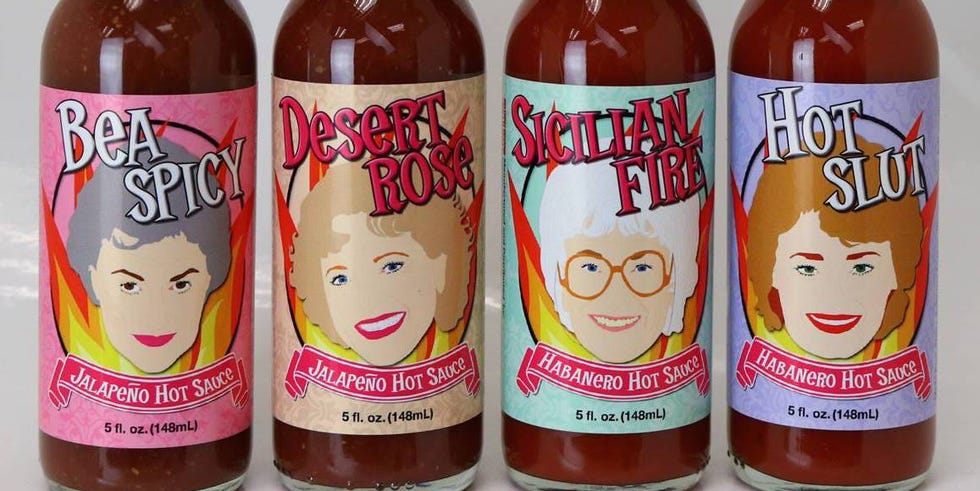 The Golden Girls first premiered in 1985, yet more than 30 years later, it's still got a large fan base.
The show – centered around four older women and their various adventures in their Florida home – has become something of a cult classic. Even though most of the cast has died (Betty White is the only surviving cast member), the show lives on in the hearts of TV lovers everywhere.
So, naturally, someone made a Golden Girls themed hot sauce line. Why? I dunno, man.
Brought to you by Always Fits, there are four types of hot sauce in the pack: Bea Spicy (named for Bea Arthur), Desert Rose (Betty White's character), Sicilian Fire (Estelle Getty's character Sophia Petrillo), and Hot Slut (Rue McClanahan's sex-crazed Blanche Devereaux).
(Quick note: I didn't have to look up any of those names.)
In theory, these would make a great gift for someone who loved the show. In practice, I'm not sure who, exactly, that would be – I can't imagine there's a ton of overlap between Fans of The Golden Girls, novelty food enthusiasts and hot sauce aficionados, but I'm not a marketing guru, so what do I know?
The site also suggests that customers "Take [their] favorite Miami ladies out to the lanai for cheesecake: hot mother fucking cheesecake," which 1) doesn't make sense; 2) indicates that whoever wrote the copy isn't terribly familiar with the show, and 3) displays a horrible misunderstanding of what food is supposed to taste like.
Anyway, if you're stumped for Valentine's Day ideas and you don't particularly care about your significant other, give this hot sauce a whirl.
[via Cosmopolitan]