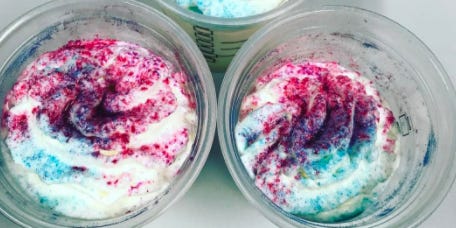 Starbucks might be joining the unicorn trend by adding a new drink to their menu. Evidence has surfaced online that Starbucks is planning to release a limited-time drink to their menu called the Unicorn Frappuccino. Rumor has it, it's even topped with glitter.
The news comes via Reddit, after user hellabummed posted this picture to the Starbucks subreddit.
As for what it's made out of? "We just guessed white mocha cream based frapp, mango inside and the new pink powder we got," hellabummed said. "Recipe cards don't come out until the April 14. You're not supposed to open the powders until the April 17 because of their very short shelf life," Redditor StormtheParade added.
If the discussion within these posts on the Starbucks subreddit can be trusted, the unicorn frappuccino will be hitting the menu on April 19. When Mashable reached out to Starbucks for comment, a Starbucks spokesperson told them, "We're still working our Frappuccino magic and don't have any details to share at this time."
Magic, indeed.
[via Mashable]