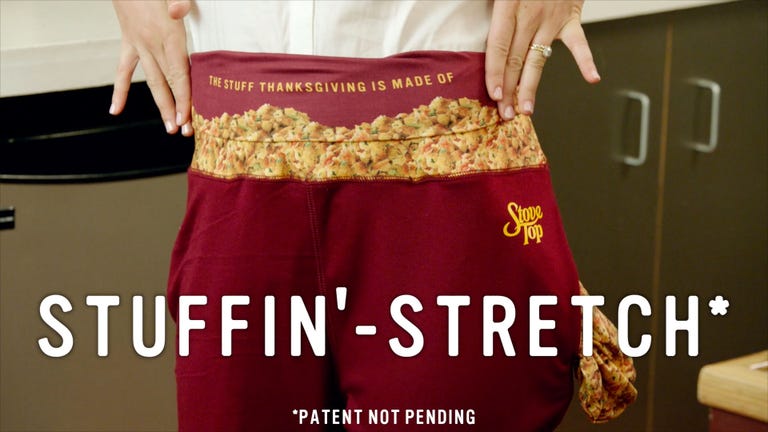 Still struggling to find the perfect outfit for Thanksgiving, one that matches the theme but has some stretch for that after-dinner belly? Well, Stove Top has you covered, quite literally, with these Thanksgiving sweatpants.
The sweats feature an extra-long stretchy waistband with stuffing print. Think maternity pants for a belly filled with turkey and cranberry sauce. The pants also come with huge stuffing print pockets, just in case you want to sneak home the last bit of cornbread without anyone noticing.
These unisex, maroon sweats are available for purchase at www.thanksgivingdinnerpants.com for a limited time. You can get them in sizes S-XL for only $19.98. And of course these pants are in such high demand that you're limited to only one pair per order.
https://twitter.com/NurseAndreaR/status/930418449091842048
And you might think that buying these pants will have no benefit other then feeding into your bad spending habits, but purchasing them will actually do some good in the world. Stove Top will also donate $10,000 to Feeding America as part of this campaign.
So while looking good, you can also feel good about doing some giving on Thanksgiving. What better way to get in the spirit of Thanksgiving?
Check out the infomercial for the pants down below.
[via Cosmopolitan]