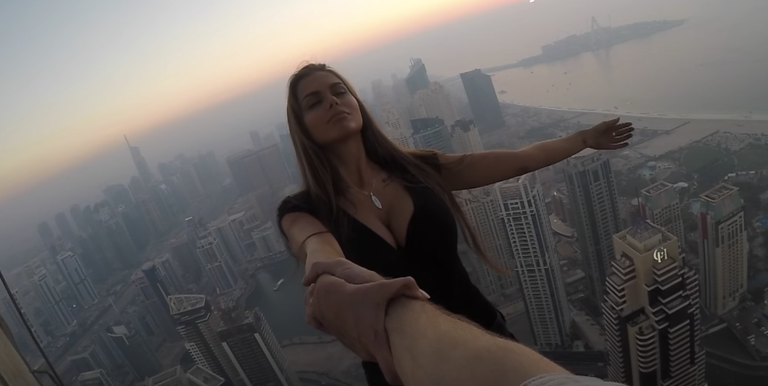 Russian supermodel and Instagram superbabe, Viki Odintcova, put her life on the line for her latest photo shoot. On a trip to Dubai recently, Odintcova took to the top of the 1,004-foot tall Cayan Tower — one of the tallest skyscrapers in the world — for her newest shoot.
In a video, Odintcova can be seen leaning backwards off the edge of the building with no safety equipment and only another man's arm keeping her from falling thousands of feet. Next, we see her climbing off the edge of the same building and dangling by her arm, again, only kept from falling by holding onto the same man.
She joins a movement of death-defying Instagrammers who risk their lives hanging off of and performing acrobatic tricks near the edge of buildings in order to get photos and videos – and followers – on top of the tallest skyscrapers on the planet.
Her fans were not all enthusiastic about this shoot, however. Many remarked that it was stupid to risk her life for something that could have easily been Photoshopped to the same effect. According to Cosmopolitan, even she commented, "I still cannot believe that I did it. Every time I watch this video, my palms get sweaty."