When you hear Tesla is making an "all electric car" you probably think it's going to be slow, inefficient, and probably overall pretty lame. But you will be happy to know you are dead wrong. Tesla released their Model 3 all electric cars Friday, and the car blew away expectations as well as gas (or charge) mileage issues.
Let's start with the speed: The Model 3 has plenty of pick up, jumping from zero to 60 in 5.1 seconds, while amazingly getting 310 miles on a single charge. It's nimble and comfortable design is only a front for the power in the engine. Along with the tight steering, this is something to write home about. Their seats, big enough for a king, but comfortable enough for a baby, embrace your body with a welcome hug as you gear up fro your journey.
While this is all great, it only gets better.
First off, the car is only $35,000. Although some die hard Tesla fans may think this is high compared to their usual prices, the compelling options packages will put many spenders in uncomfortable territory. But, with battery prices where they are, Elon Musk knew what he was doing when he made these cars.
The car just looks awesome, and has features that match the outside appearance. The door handle itself opens with a simple senor that picks up your thumb and palm with a light press. The car also does not have a key. Either unlock your car with your phone automatically, or with a card-like key that slides into the door, which fits easily in your wallet. Starting the car is the same as opening it; easy and incredible.
This Model 3 is just a testament to how good Tesla is getting at making cars. It's a major improvement from the Model S and X for the sole fact it is made for the daily driver, with plenty of cup holders, door pockets, and console storage for those who use their car like a storage unit.
Tesla took direct shots at competitors when launching the Model 3 Friday. Telsa directly competed with GM's all-electric Chevy Bolt and won. The Chevy Bolt is an economy gasoline car that's been electrified, while the Model 3 is a new innovatice actually all-electric car.
Tesla targets to sell 500,000 electric cars next year, but they will have to tear down the artificial distinction between a "car buyer" and an "electric-car buyer." They will need to target the $35,000 sedan class, and according to Telsa's charts, they win again.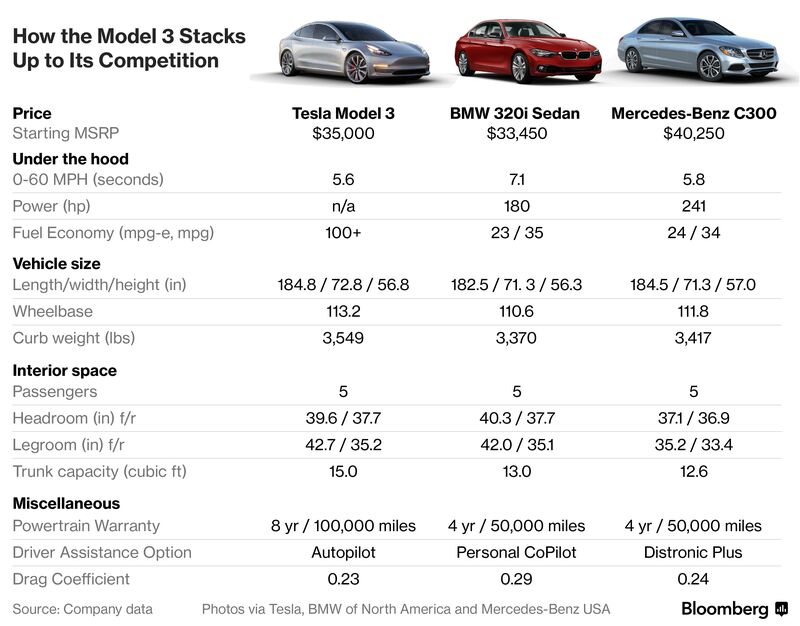 According to Musk, he said,
"We finally have a great, affordable, electric car, that's what this day means. I'm really confident this will be the best car in this price range, hands down. Judge for yourself."
If all of this is not enough, the model has two battery versions: Standard Battery and Long Range. While all of the car's features, looks, and efficiency will remain the same, the mileage is extraordinary. There is a standard and a fully loaded version ($35,000 standard, $57,000 fully loaded) but overall the cars will be exactly the same, minus the sustainability of the battery.
Here a break down (Standard, Long Range):
Price: $35,000, $44,000
Range: 220, 310 miles
Supercharging rate: 130 miles in 30 minutes, 170 miles in 30 minutes
Zero-60 MPH time: 5.6 seconds, 5.1 seconds
This is the second electric car in the world to break the 300-mile range, the other is a Tesla Model S ultra-luxury car that started at $97,5000. The Model 3 is more affordable and more efficient, winning the trophy for cheapest range for the money, dethroning the Chevy Bolt.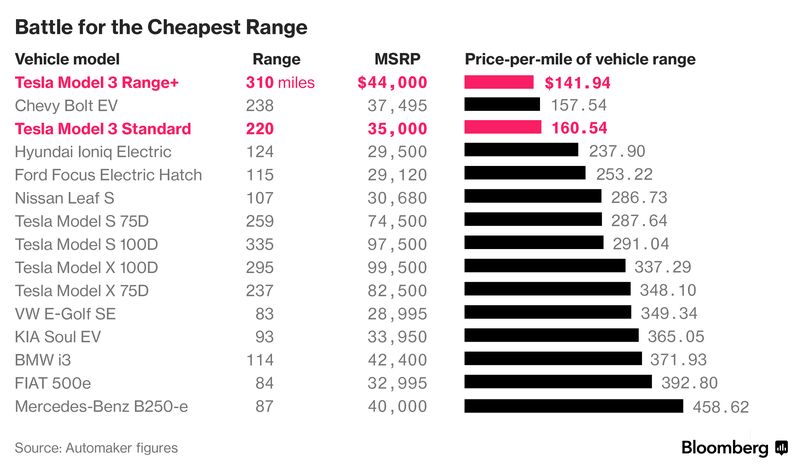 Musk only released 30 and already is on major backup for anticipatory orders. They are calling it "production hell."
Musk reiterated his projections of a very slow start in the next few months and then increasing rapidly to a rate of 20,000 a month by the end of the year, and 50,000 a month by the end of 2018. It's an aggressive schedule that would more than double Tesla's total production rate in six months, and then quintuple it by the end of next year. Musk alluded to this challenge at the launch event when he joked to a sea of cheering employees, "Welcome. Welcome to production hell."
In the last three weeks, Tesla built 50 Model 3s, according to Musk. Waiting behind those initial customers is a list of more than 500,000 deposits, at $1,000 each. Musk says people who put down deposits today won't get their cars until late 2018.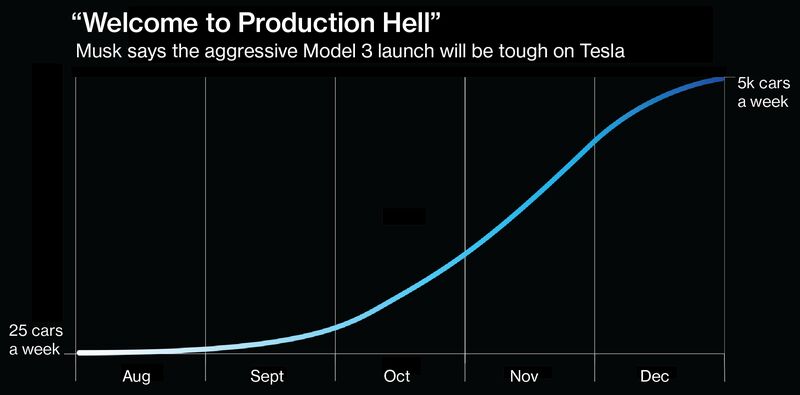 While some people were skeptical about electric cars, the release of the Model 3 should revolutionize the car industry from how we have known it for decades. The power of electric engines, efficiency, and affordability can and will sway the common opinion of the question, can electric cars take over gas powered cars? Maybe not yet, but Tesla is starting the transition and making ti pretty easy.
[via Bloomberg]