According to Elle's Kristina Rodulfo, the Hanacure face mask that everyone's been talking about lives up to the hype. The South Korean brand introduced the gel mask some time ago, advertising it as the "all in one facial." Some might be deterred by the fact that it makes you look 100 years old while applied, but it's been lauded by celebrities like Drew Barrymore—and apparently, it's praise we can trust.
"The mask pulls so tightly on the skin when it's dry that it totally warps your face and, when you move even the tiniest bit, forms cracks all over," explains Rodulfo. But sometimes with great suffering, comes great reward. According to the site, the 30-minute mask is equivalent to a good facial; reducing pores, hyperpigmentation, and wrinkles in only one month when used once a week. Its ingredients include lotus leaf extract, oriental raising tree extract, green tea extract, honeysuckle flower extract, rosa canina fruit oil, peony root extract, sophora root extract, and peptides.
Best part? The process is simple. It comes in two parts, a serum and a sealed solution you mix to form a gel which you paint on your face with a brush, then leave on for 30 minutes.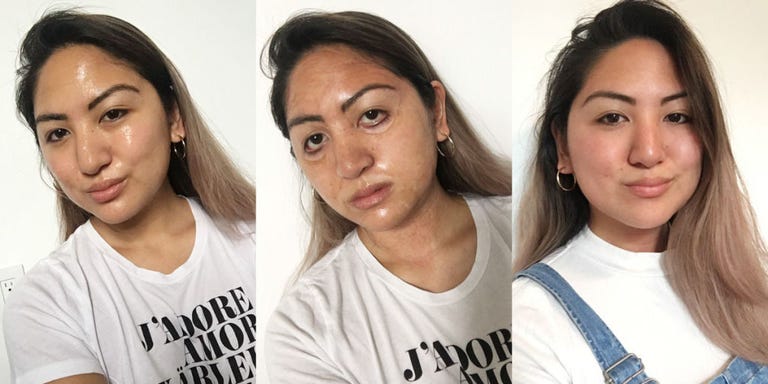 "When I tried it, I immediately felt a tingling sensation and slight pulling. Over the half hour, my face started feeling petrified–I couldn't even smile or otherwise move any facial muscles because of how tight the mask was getting," says Rodulfo. In the end, it was well worth it. "My skin felt totally resurfaced and baby-soft to the touch as well as plumper. On top of that, while I'm not at the age where anti-aging is a concern, the couple of fine lines I have–one on my forehead, on my laugh lines–were visibly less apparent."
The before and after photo, which doesn't feature any makeup or editing and was taken in "harsh sunlight," speaks for itself: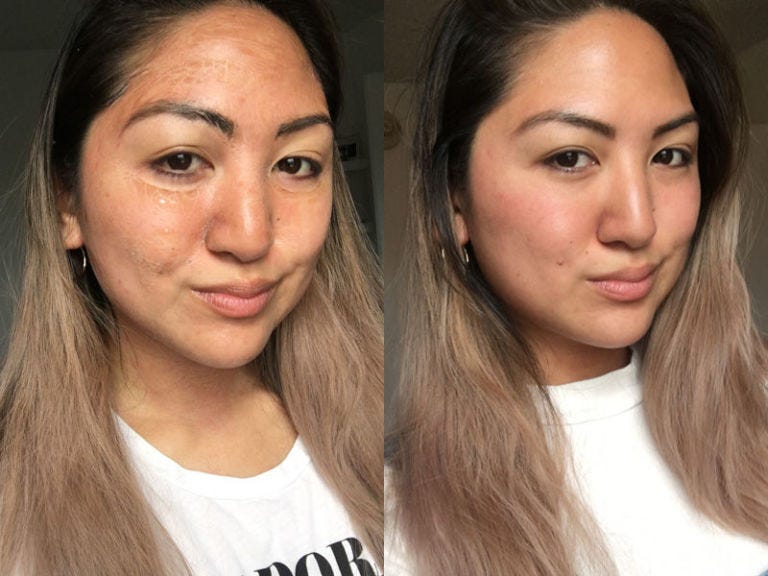 [via Cosmopolitan]