This week in Adorable Grandpas, we bring you 85-year-old Stanley who was honored to be his granddaughter's "flower grandpa" at her wedding.
Jen Briskin, 29, knew she wanted to include her grandfather in her wedding in a huge way. "The idea of having him be a 'flower girl' started out as a joke, and I teased him that I was going to have him wear a tutu and patent leather shoes like a typical flower girl," she said. "He liked to joke that this would make him 'go viral!' My whole family thought that I was crazy but I couldn't let it go. I wanted our wedding to be memorable and different without being cheesy and I thought that this would be the perfect addition to our ceremony."
So she asked him,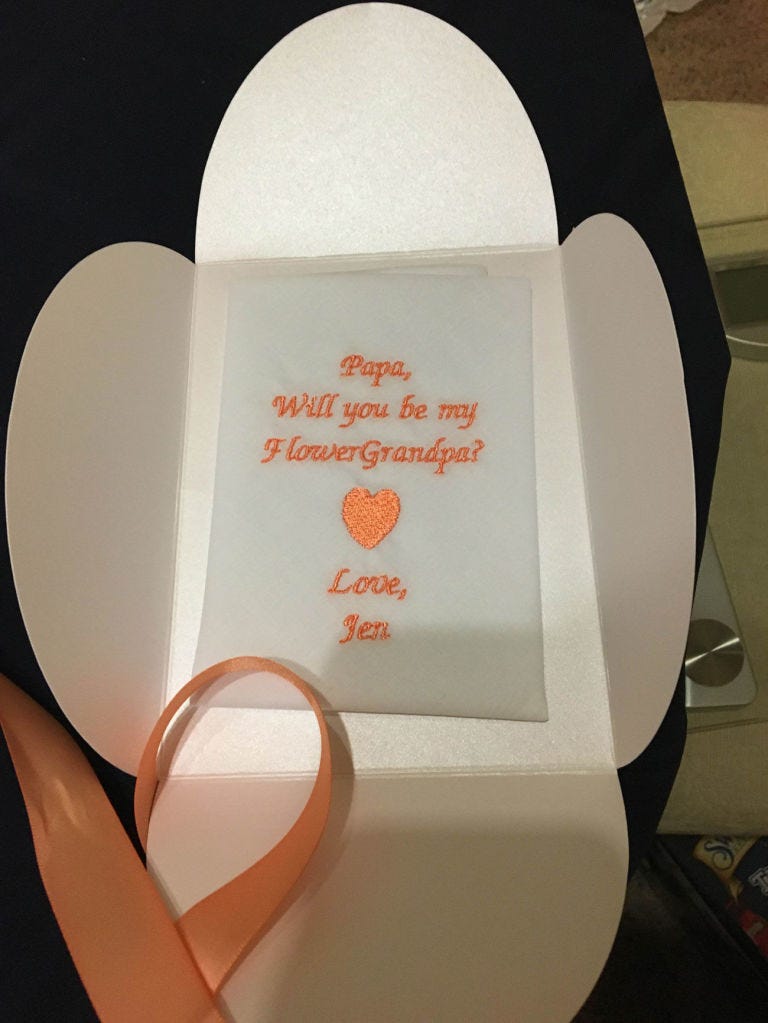 While Stanley was excited, he was also hesitant at first. "We convinced him that if two-year-olds can be flower girls, he could do it, too!" Jen said. "He insisted on practicing before the ceremony so a few weeks before the wedding, my sister bought a bucket and fake leaves and they practiced by having him throw the leaves on the driveway."
She kept her "flower grandpa" a secret from her guests, and surprised them during the ceremony. "As soon as he walked out, I heard constant laughter," she said. "He still wasn't sure what he was supposed to do and instead of throwing the petals down the aisle, he started throwing them on our guests. It felt like our style to have all of our guests laughing right before we started our life as husband and wife."
It was a special moment she will always remember having shared with her grandfather, and she's grateful to have included him in such a large milestone. "We walk around a nearby park every Sunday and he loves talking about topics such as his days as a popular DJ in Savannah, Georgia, and loves to ask me questions about his new iPhone," she said. "I feel very lucky to have a grandfather who, at 85, is still young at heart and willing to participate in my crazy ideas! I'm excited that I have pictures and videos to show my children and grandchildren when I recount stories about my amazing grandfather."
Swoon.
[via Cosmopolitan]