Tilikum, SeaWorld Orca That Killed Trainer, Has Died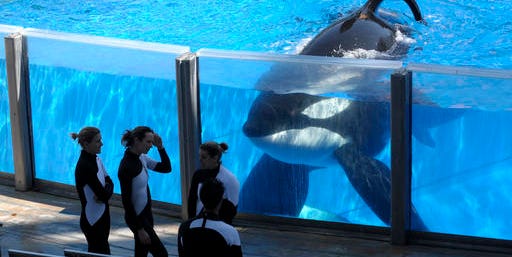 For those of you who watched (and rewatched) the documentary Blackfish on Netflix, the name Tilikum probably sounds familiar. The orca whale was featured in the documentary after killing trainer, Dawn Brancheau, at SeaWorld Orlando in 2010.
Sea World officials confirmed Friday that Tilikum has died at an estimated 36 years old, but they did not give a cause of death. In a statement, the officials said Tilikum had faced serious health issues including a persistent and complicated bacterial lung infection, a that a necropsy will be performed.
The documentary argued that killer whales, when in captivity, become more aggressive toward humans and each other. According to Cosmo, after the documentary played at the Sundance Film Festival and aired on CNN, several entertainers pulled out of planned performances at SeaWorld parks and animal rights activists increased their demonstrations outside the parks. SeaWorld Entertainment officials then announced in March 2016, six years after Brancheau's death and three years after the release of the documentary, that the tourist attraction would end its orca breeding program and theatrical shows involving killer whales.
"Tilikum had, and will continue to have, a special place in the hearts of the SeaWorld family, as well as the millions of people all over the world that he inspired," SeaWorld President and CEO Joel Manby said. "My heart goes out to our team who cared for him like family."
[via Cosmopolitan]