With millions of users constantly snapping pictures everyday, there's a legitimate reason why Snapchat is constantly updating and adding new and crazy filters daily. I, for one, have an obsession with using all of the Snapchat filters because they are so funny, but some are definitely more interesting than others. Here is a ranking of the top 10 Snapchat filters in my eyes:
10. The Coachella flower child
Everyone seems to love this filter for some reason. I am not opposed to it, I actually like it a lot, but there are just some filters that I'd rather use over this one. This filter also miraculously makes your face look ten times better, so if a pimple comes onto your face and you desperately need to send a Snapchat, I recommend using this filter.
9. Rainbow vomit
This filter is an oldie, but I will always love it because it was the first filter I ever used. Ever since Snapchat came out with their idea of filters, this has been my go-to choice. I love how you're just able to open your mouth and vomit out rainbows, there's seriously nothing better than that. Although I haven't seen this filter in a while on Snapchat, it will always have a spot in my heart.
8. Friend face swap
One of the strangest filters I have ever used has to be the face swap one. I have spent days at a time in school just face swapping with everyone who walked past me. Even though this filter has been released for a while, it is definitely still one of my favorites. Who doesn't love having their face look completely messed up on someone else's face? Sometimes it works great, but it's better when it malfunctions.
7. The soft skin filter
I swear to god that this filter makes everyone look amazing. I don't know what they did or how they did it, I just know that it has been life changing. The second you press that filter and it starts doing its magic, your mind will be blown. Just like the flower child filter, your face is transformed, just without the flower headpiece.
6. The drag queen
No other filter has made me laugh as much as this one has. Every time I use it I don't even recognize myself which is so scary. You'll eventually learn to love it though. I definitely did. The makeup is just a little over the top.
5. The bug eye face
This is definitely one of the cutest filters and also one of the scariest. I use this filter when I think someone is mad at me because the second someone sees it they naturally give in. It works every time.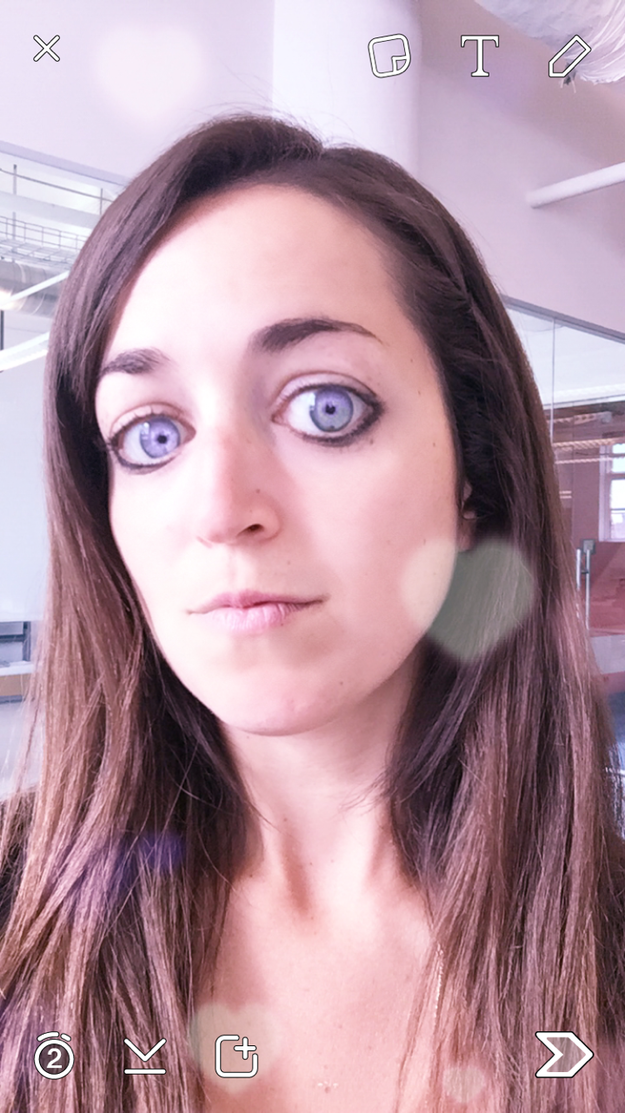 4. The nerd face
I am taken back to my middle school days where I am able to use a filter with braces and big glasses. I thought I finally escaped this phase, but I guess not… It's fine though, because this filter is in my top 5 of favorite Snapchat filters.
3. Face without a nose
I've always wondered how Snapchat did what they do everyday, and this filter has me wondering that even more. I have absolutely no clue how they managed to make someone's nose disappear when they choose the filter, but I'm not complaining. I love it.
2. Wrinkly face
I now know what I am going to look like when I'm 80 years old thanks to Snapchat. I never thought I would know what I looked like when I was old until I actually started growing grey hairs, but I got a sneak peak early. I'm actually happy with this filter because it makes me laugh every time and I really enjoy it.
1. The cute puppy face
We have reached a winner! This filter is everyone's favorite. Celebrities are even obsessed with it. And now, instead of posing solo with just one puppy, you can pose with a friend and take a selfie with the two of you and both get a puppy filter over you. Double the cuteness. What is better than that?