Trolls, Classy as Ever, Post Fake Pictures Of Assault at 'Black Panther' Showings
There is something dangerous happening in this country. Well, I mean there are a million things actually. But one issue at a time. People seem to think they have near-infinite latitude with what they do, so long as they label it as "trolling." Trolling can be racist and homophobic and cruel, and all that regardless of whether it is called "trolling." But rolling is not synonymous with joking.
There is no better example of what is going on than with showings of the new film Black Panther, the latest fantasy sci-fi film from Marvel that attempts to tackle questions of politics and race. People, or "trolls' if you prefer, have been posting Photoshopped images of people being brutally assaulted, claiming that they were attacked by black people for various reasons, including because no whites were allowed to see the movie.
One photo actually shows a 19-year-old Swedish woman who was assaulted at a bar last month:
Another shows a photo of an 18-year-old girl who was locked in an apartment by her boyfriend and assaulted for 4 hours:
Or the ex-wife of former white house staffer Rob Porter:
Many have already condemned the trolls' behavior:
Fake posts are being created to make black people look bad and the sad part of it is some people will believe them #BlackPanther pic.twitter.com/XzNMoxFmWs

— Trapa Fasa (@trapafasa) February 16, 2018
There's a bunch of people on here posting fake assault pictures and saying it was black teens at #BlackPanther showings. God I hate people.

— BLUƎ PΛLΛDIN (@Wolvez23) February 16, 2018
Sadly, the trolls haven't stopped trolling: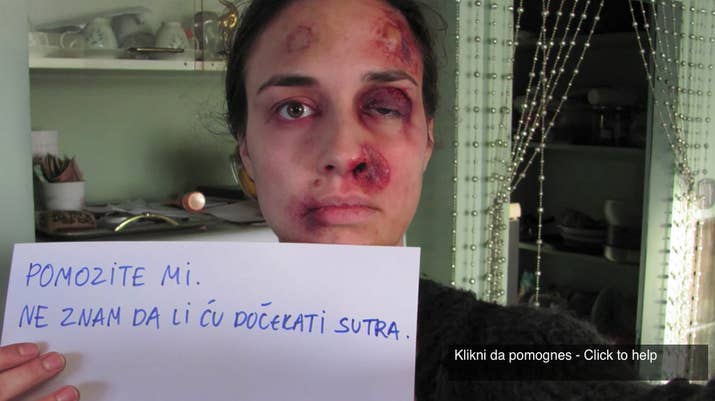 Be advised that if you see an image online and want to check where it came fr m, you can do a reverse image search. If you use Chrome as your browser, just right click on an image and select "Search Google for Image." It's free and fast, and will help you fight back against fakes.
People need to know the line where freedom of expression ends and criminal bigotry and hate begins. This is why there is such confusion in this country over things like gun laws. People can't tell the difference between the Secnd Amendment and outright lunacy. And the principle is the same here. A national dialogue needs to begin, and be taken seriously. This is not only offensive, but cruel, even evil behavior. End rant.
[via Buzzfeed]