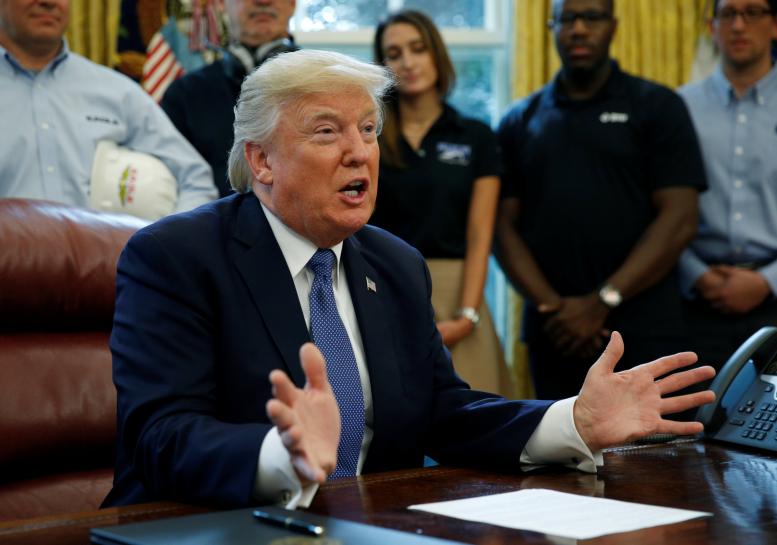 Poor baby Trump. After just having to defend himself against Liddle Corker, he must now win the fight against networks such as NBC. A "staunch defender" of the First Amendment, Trump is crying FAKE NEWS to NBC and CNN reports.
Trump has felt personally threatened by CNN, NBC, MSNBC, and other news sources since the beginning because they speak the truth he is afraid to hear. So in response, like a frightened animal, he must try to go for the attack with his tail between his legs, and offend them through tweets.
However, Trump is now throwing a curveball to his previous record of totally (il)legitimate presidential actions.
With all of the Fake News coming out of NBC and the Networks, at what point is it appropriate to challenge their License? Bad for country!

— Donald J. Trump (@realDonaldTrump) October 11, 2017
People on Twitter immediately condoned him for attacking the First Amendment:
Trump considers taking networks off air that report negative stories.

SHS last week: Trump's an "incredible advocate" of the 1st Amendment. https://t.co/HnY3tUByFK

— Kyle Griffin (@kylegriffin1) October 11, 2017
At no point is it appropriate to undermine the #FirstAmendment, Mr. President. That isn't how freedom of the press or the @FCC works. https://t.co/I8kNsblaAE

— Ed Markey (@SenMarkey) October 11, 2017
Even if we dismiss as bluster, it's dangerous for prez w/ cult following to suggest silencing unwanted speech is acceptable. https://t.co/WU6Hgws1wn

— Philip Klein (@philipaklein) October 11, 2017
This action sounds exactly like a fascist dictatorship, and he is slowly making 1984 a reality for America.
Networks don't have a government licenses. NBC does own/operate some local stations w/ licenses. Does he want govt to judge news content? https://t.co/ivo3S0fO41

— Anthony Zurcher (@awzurcher) October 11, 2017
This is genuinely terrifying for those concerned about the future of our democracy. https://t.co/uKMIcwPoeB

— Keith Wagstaff (@Kwagstaff) October 11, 2017
Simply tweeting this has repercussions for journalists' credibility and can put them in danger.

See: Turkey https://t.co/PktWpTFjS0

— Evan Engel (@evanengel) October 11, 2017
Trump is an absolute imbecile who needs to stop. Just take his phone away and send him to his room without dinner.
[via Twitter]