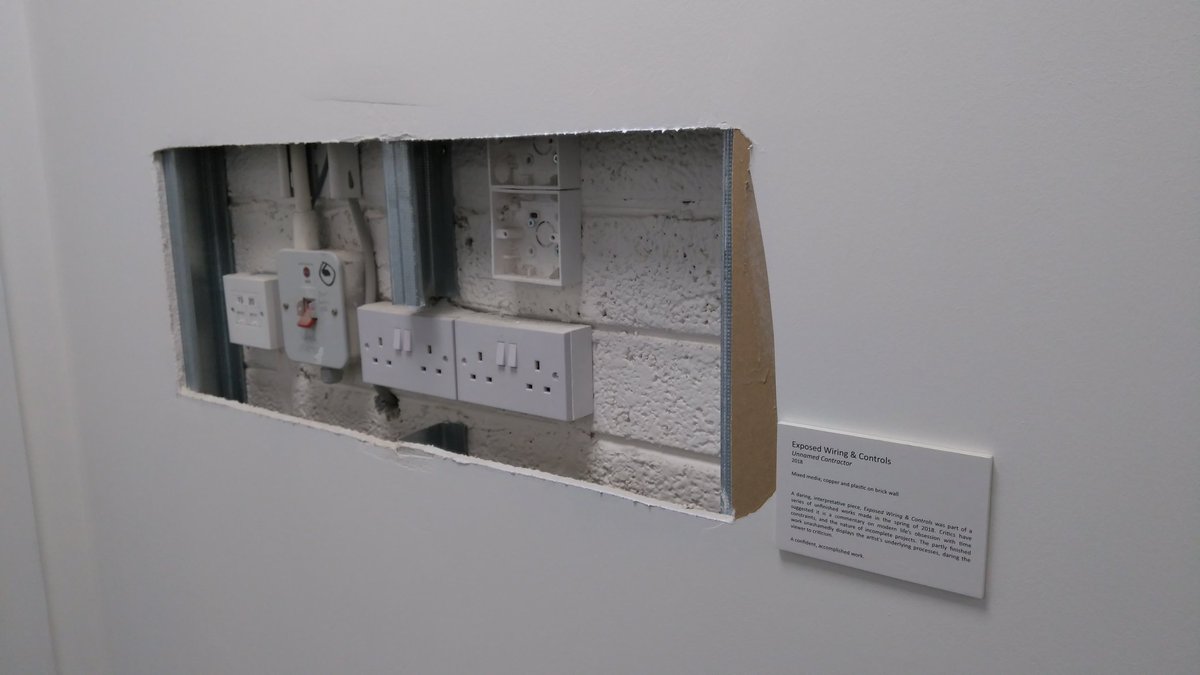 It seems like any pile of objects can be clumped together and be called "art." Some sculptures at MoMA are confusing, or maybe I'm just too plebe to understand the true art.
Well, I'm not the only one.
Twitter user @Malboury decided to post a photo of his work space and show how it could be art:
We moved into new offices, but this wall has been left open for a few weeks now. I knew what I had to do. pic.twitter.com/kRQcqM4UDe

— Malboury Jones (@Malboury) February 26, 2018
The office must have taken notice, because the wiring was replaced with a patch job:
There was a development… pic.twitter.com/S8h1OrFasB

— Malboury Jones (@Malboury) February 27, 2018
Apparently, other Twitter users have done/experienced something similar to extreme art such as the one @Malboury created:
we have a hosp constantly under construction. i've done several pieces like this. description isn't part of the hosp art standard – sadly. these are two recent found pieces. pic.twitter.com/sVOZ7JF2Hv

— jennifer baum (@jenniferbaum6) February 28, 2018
Here it is, as of just now. It's been a stressful time.. pic.twitter.com/XfK2FnE4J0

— Fraser Rolfe (@rephraser) February 27, 2018
My only trip to SFMOMA years ago I saw some rusty metal leaning up against a wall and I thought, "Did some workers leave this?" but then saw a little art sign like you made. I just thought, "Oh, it's Art" but now I wonder if I wasn't right all along!

— Hacking Math Class (@hackingmath) February 27, 2018
Apparently, @Malboury appreciated the responses, and inquired about creating a union:
There are apparently more of us. Should we start a union? https://t.co/G8YsiUuLdw

— Malboury Jones (@Malboury) February 27, 2018
All in good fun.