Just one day after it was revealed that close, personal friend of, and trusted advisor to Donald Trump, Roger Stone, had colluded with the Twitter profile "Guccifer 2.0", the hacker who had leaked election info earlier last year that could have damaged the process for the Democratic party, Twitter was quick to find this photo of him and his wife at the inauguration, where Stone opted for a top hat and steampunk goggle look:
Naturally, Twitter had no mercy on Stone's soul:
Twitter user @SpookPerson, otherwise known as "Goth Ms. Frizzle" trolled Stone at expert level:
Stone, who, in his spare time runs the blog Stone On Style, considers himself somewhat of a foppish dandy, and, just this past New Years Day he published his 11th Annual Best and Worst Dressed List of 2016. Some of his fashion favourites of the past year included Milo Yiannopolous (whom he referred to as an "alt-right provocateur"), Tomi Lahren, (whom he creepily notes is "the primo blonde bombshell you always failed to land after meeting her in the College Republicans"), and Zendaya. Of course, topping Stone's worst dressed list was Hillary Clinton, of whom he wrote:
We're not sure if the two-time failed presidential candidate has ever worn anything resembling acceptable style or fashion. 2016 brought us the "Dr. Evil" version of Hillary Clinton and many other smock style outfits that reminded us of third world despots and upstart super-villains. At times, many even reasoned her oversized and bulky collection was housing some type of medical device to "keep the campaign going." There is absolutely no hope in her becoming Commander in Chief or a style icon.
His worst dressed list also involved fat-shaming rhetoric in the direction of filmmaker Michael Moore (he referred to him as "a slovenly blob like existence [who] is relegated to wearing baggy shirts, hoodies, and other garb that should only be for fourteen-year-olds playing Call of Duty in their parent's basement") and to actress Lena Dunham (he said "if you can look at [her] without projectile vomiting, you have a strong constitution").
All this coming from a man who regularly sports such fashionable bifocals as these (worn in the below image in a segment he did for famed sociopath Alex Jones' program InfoWars):
and who has also appeared at his own book-signing in a fancy pair of skull-and-crossbones suspenders: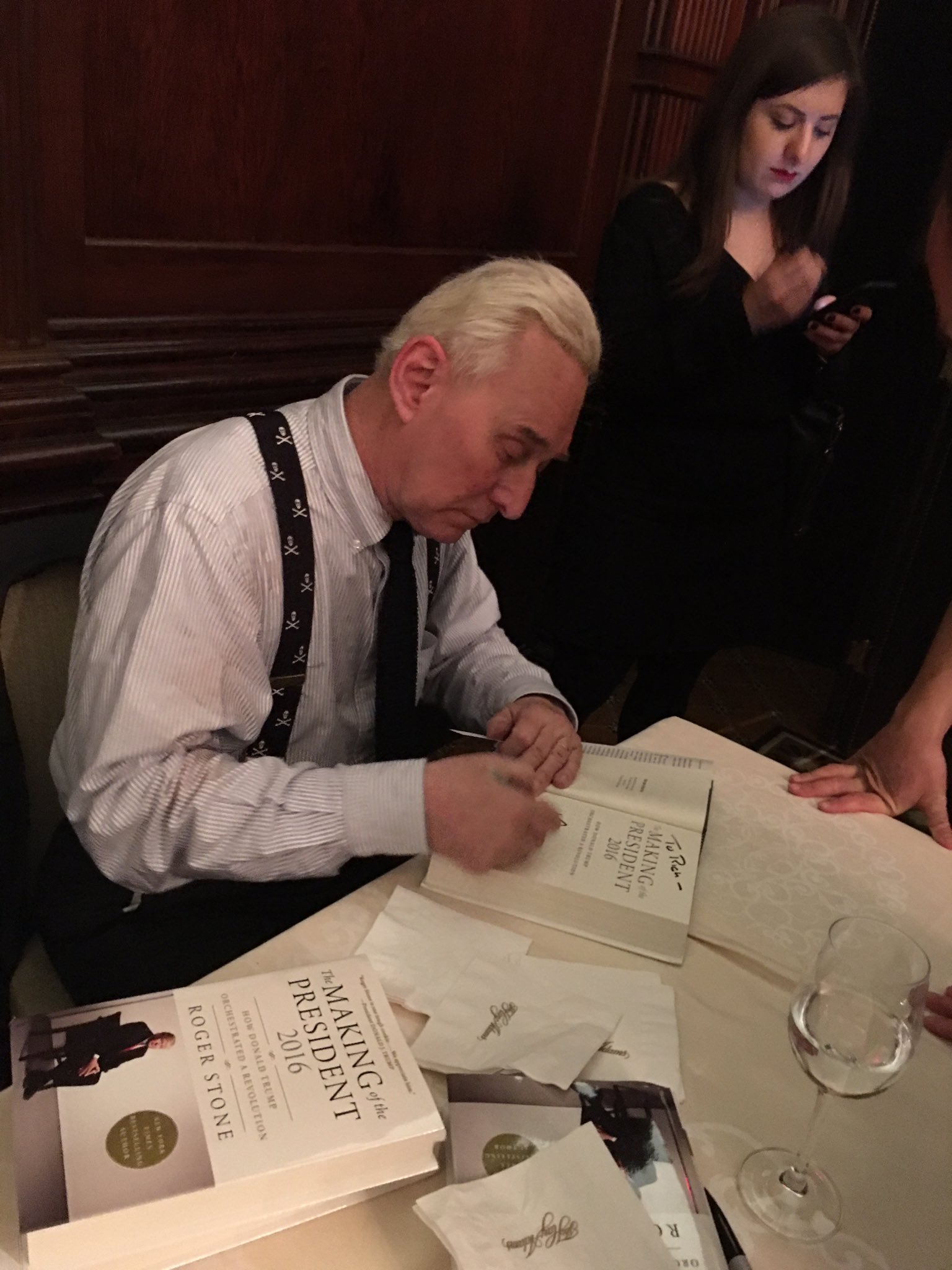 Talk about chic. You too, can own a pair of these bad boys courtesy of Party City for just $8.99.
Stone has even been spotted in some promotional material for his book, in a wrinkly beige suit with his hair so well-oiled it looks like it's on the brink of breaking right off in one piece: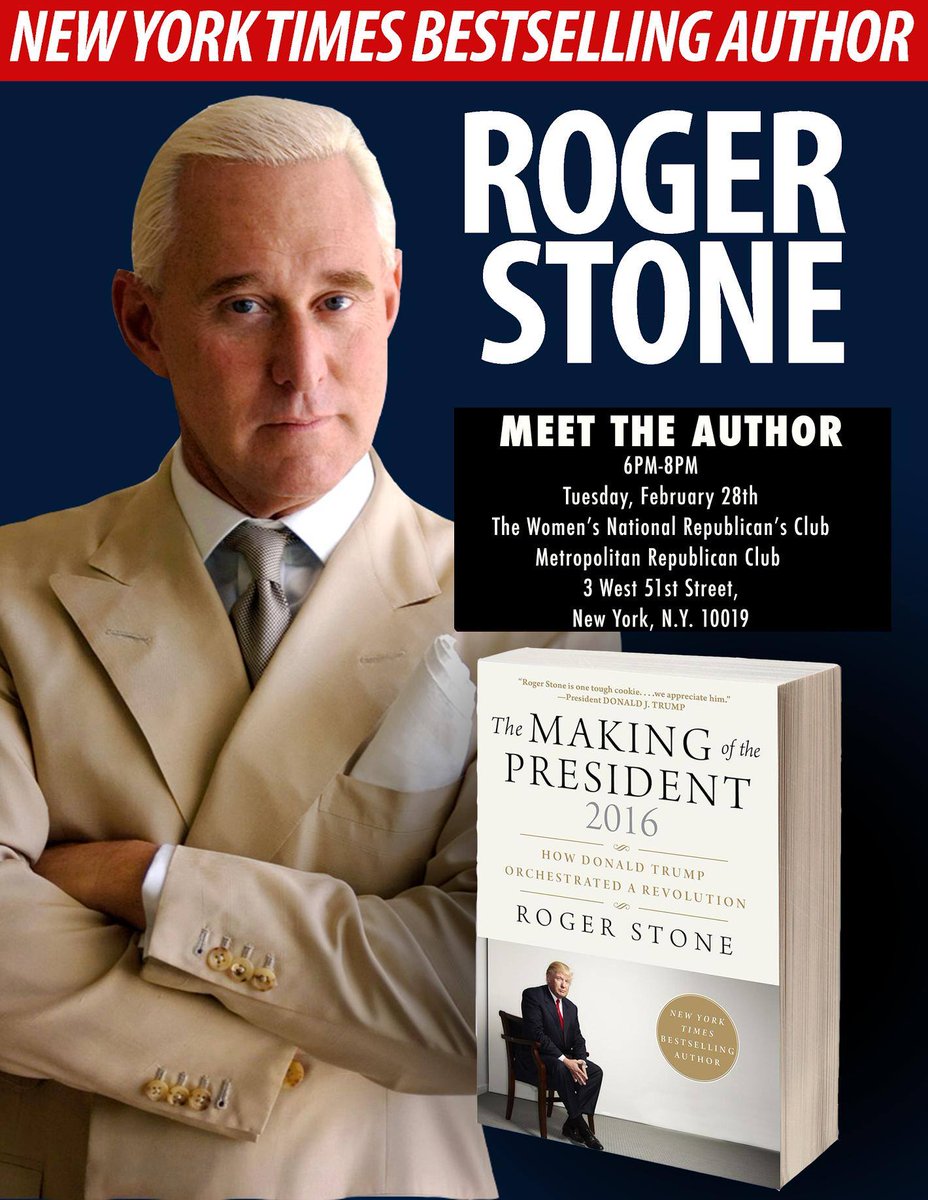 Fancying himself somewhat of a divine fashion plate, Stone even once tweeted out a guide to purchasing a top hat that he found on WordPress:
Stone has been a glutton for media attention as of late: just this Wednesday he claimed that he was the victim of a hit-and-run accident which he believed to be an assassination attempt on his life perhaps tied to the Russian hacking scandal:
Nevertheless, he "insisted" on still making it to yet another appearance on Alex Jones' InfoWars to promote his new Trump book, "The Making of The President 2016":
This is not the first time in recent months that Stone has cried "assassination attempt" on his life, in January he was convinced he had been poisoned with polonium by political enemies of his who wanted to silence him once and for all.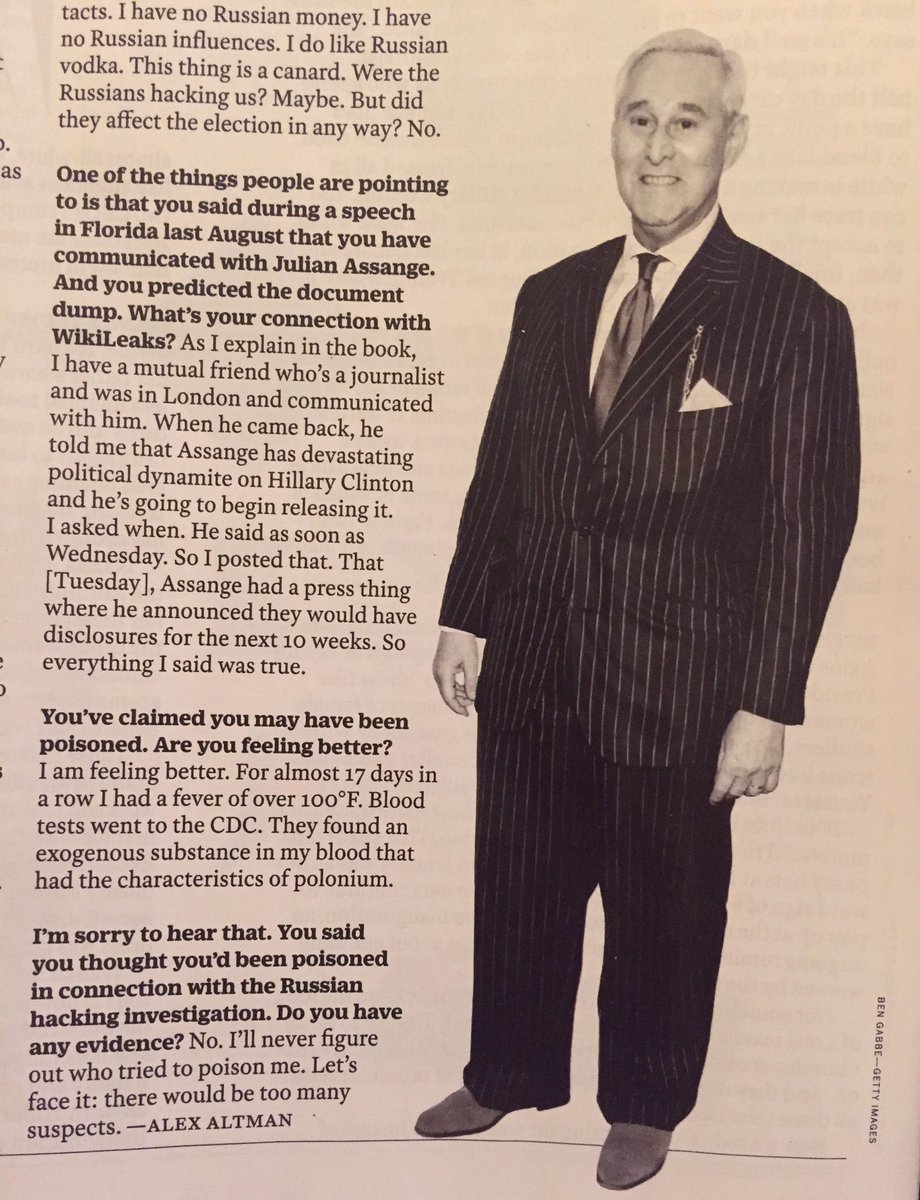 Jim DeFade pointed out some strange details surrounding Wednesday's accident in an article for CBS Miami where he caught up with Stone following his Florida appearance with InfoWars on Wednesday afternoon:
The accident occurred at 10:45 am in Pompano Beach at NW 7th Avenue and 1st Street, according to an incident report obtained by CBS4 News.

The report states that a deputy was not dispatched to the accident until 11:56 a.m.- more than 70 minutes after the crash. The deputy arrived on the scene at 11:59 a.m.

The report makes no mention of Stone being a passenger in the vehicle.

Stone says the reason he was not listed as a passenger was because he left the scene when it became clear that a deputy was not being dispatched right away. Stone said after waiting a half hour he called an Uber to take him home while the driver of the car stayed behind.
DeFade continued, pointing out one of the many reason that naysayers of Stone's tend to remain a bit sceptical:
 One reason why people are prone to doubt Stone is that he is a self-described master of political dirty tricks who got his start in the Nixon Administration.
Indeed. Stone has even revealed that he has a picture of Nixon's face tattooed on his upper back:
Again, what an international fashionista.
You can watch Stone and Jones' banter on the traffic incident and the other assassination attempts he claims have been made on his life below: